After Biden's Czar Forces CBP Head to Quit – The GOP Demands His Resignation, or Impeachment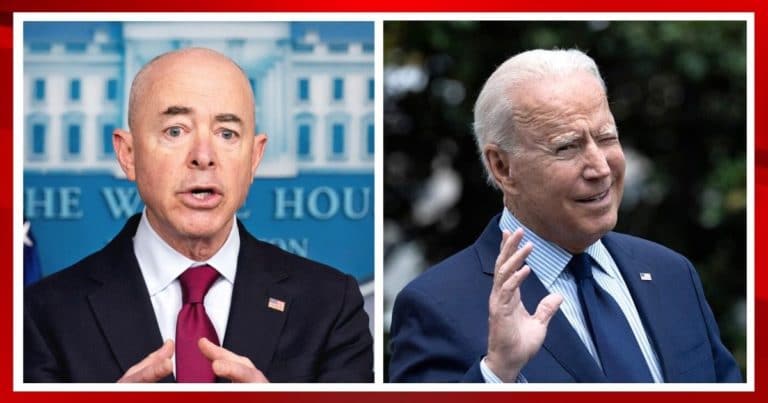 What's Happening:
Joe Biden has many failures on his record. And they keep growing. The media doesn't want you to know about how badly Biden's top officials are performing. But the news is hard to ignore.
Perhaps the worst failure of Biden's cabinet has been over this one, major crisis. Biden's top man has ignored demands for answers and accountability. And, it appears, he refused to take the fall forcing another man to do it for him.
From Daily Wire:
U.S. Customs and Border Protection Commissioner Chris Magnus resigned Saturday after top Biden administration officials threatened to fire the border chief if he refused to step down.
CBP Commissioner Chris Magnus stepped down after DHS head Alejandro Mayorkas threatened to fire him. It is Mayorkas who has pushed radical policies to leave the border open. Yet he is trying to put the blame on the Border Patrol chief, so Americans would blame Magnus instead.
And that's not sitting right with Republicans.
From Fox News:
Republican lawmakers said Homeland Security Secretary Alejandro Mayorkas should be next on the chopping block after Customs and Border Protection (CBP) Commissioner Chris Magnus' resignation over the weekend…

"The Biden administration found their fall guy for the chaos at the border," Senator Ted Cruz [said]…

"Responsibility for the border crisis lies with Joe Biden and DHS Secretary Alejandro Mayorkas, and real accountability starts with Mayorkas being impeached. Every moment the border continues to remain open only heightens the present humanitarian and national security crisis."
Republicans are demanding that Mayorkas face the music over the border crisis. Since Biden took over, nearly 5 million aliens have invaded the country. Mayorkas, under orders from Biden, has looked the other way.
He is responsible for the government's refusal to enforce our immigration laws. Magnus' hands appeared tied, because of Mayorkas' decisions. Yet Mayorkas threw Magnus under the bus, to avoid blame for the crisis.
But Republicans are not buying it. They want Mayorkas gone over his horrible handling of the border.
The border crisis is a large black stain on the Biden administration. Biden shut down any enforcement along the border, triggering numerous tidal waves of migrants to overrun our country.
Biden has done nothing to address the problem, as Mayorkas makes decisions that look like radical activism, not enforcement on the border.
Key Takeaways:
Border Patrol head resigns after being threatened with termination.
Republicans are calling for DHS head Mayorkas to resign or face impeachment.
Biden's DHS is responsible for the ongoing border crisis.
Source: Daily Wire, Fox News