Hours After Biden Seems To Support Defunding Police, Nikki Haley Turns Tables On "President Biden," Losing Rule Of Law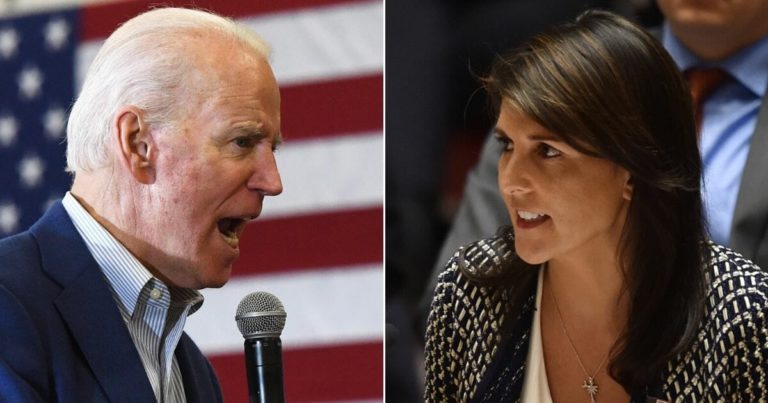 What's Happening:
Joe Biden previously claimed he was against defunding the police. But during a recent interview, he said he was "absolutely" up for taking money from police departments and giving it to other groups.
That is a major policy change, one he seemed all too quick to make.
Redirecting needed funds from police departments is the same as defunding them. What will happen to cities if cops lose their funding is a big concern among Americans.
Now, Nikki Haley warned the country that with a "President Biden" we would lose the rule of law:
Former U.S. Ambassador to the United Nations Nikki Haley called out presumptive Democratic nominee Joe Biden on "Hannity" Wednesday for seeming to cave to pressure from many in his party who have called to defund the police.

"If we go with a President Biden," Haley warned, "we will lose our rule of law, we will have the progressives really running away with everything, getting all of what they want and we will get closer and closer to the socialist countries that we have fought so hard not to become."
Our Take:
Many leaders have voiced concern over the Democrats' move to defund the police. Leaders in Washington refuse to comment, as local Democrats slash budgets or vote to abolish cops altogether.
In New York, crime has already risen significantly since their mayor cut funding and shut down an anti-crime unit.
At the same time, Democrats call to defund police, violence increases in major cities. Radical activists have burned down cities, toppled historic monuments, and stormed neighborhoods. Seattle was overrun by anarchists.
Portland continues to see night after night of chaos. It seems Democrats are unwilling to end these outbreaks.
It has forced Americans to ask if Democrats still support the rule of law, anymore. After all, this is a party that supported what some have called a flimsy impeachment against Donald Trump.
Additionally, local Democrats shut down their states longer than others. They even arrested pastors and stormed Jewish funerals.
It's not hard to agree with Haley that Biden's increasingly radical stance will put Americans in danger. If Joe Biden is elected, will we lose the "rule of law"?
If you tear down the law itself by eliminating the one group devoted to upholding it, do you still have a country anymore?
Key Takeaways:
Joe Biden has voiced support for redirecting funds from police departments.
Nikki Haley accused a future "President Biden" of eliminating the rule of law if he follows through on this policy..
This comes after weeks of rioting and violence across the country.
Source: Fox News