Biden and Democrats Sent Spiraling Together – Joe Scrapes Bottom as 2022 Congressional Ballot Swings to Republicans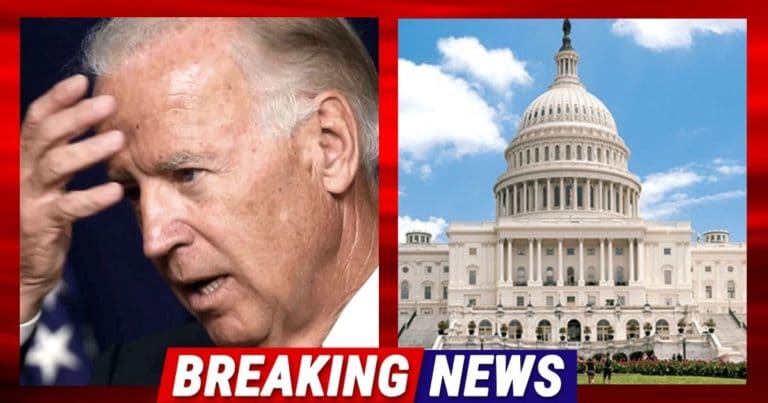 What's Happening:
It's almost become standard practice by now to say that Biden's approval is in the gutter. His administration continues to make one blunder after another, as the American people suffer.
Today's poll is no better than any other.
From Rasmussen Reports:
The Rasmussen Reports daily Presidential Tracking Poll… shows that 40% of Likely U.S. Voters approve of President Biden's job performance. Fifty-eight percent (58%) disapprove.

The latest figures include 18% who Strongly Approve of the job Biden is doing and 47% who Strongly Disapprove. This gives him a Presidential Approval Index rating of -29.
As we get closer to the midterms, these polls have even greater consequences.
From Rasmussen Reports:
The latest Rasmussen Reports national telephone and online survey finds that, if the elections for Congress were held today, 48% of Likely U.S. Voters would vote for the Republican candidate, while 40% would vote for the Democrat.
This is pretty devastating for Democrats. Joe Biden's approval continues to dwindle. As gas prices reach record highs, as inflation soars, as the border remains open, Americans continue to get outraged.
Not only is Biden's disapproval much higher than his approval, but his approval index is also shocking low, at -29.
And that is clearly having an effect on his entire party. Keeping with recent trends, generic Republicans are beating Democrats.
Voters would rather vote for a Republican than a Democrat, 48-40.
Polls like this have been a historic reversal. Rarely do Republicans outperform Democrats in these kinds of polls—even in years, the GOP wins.
For Republicans to be beating Democrats by such a margin is a sign that the left is in big trouble.
Outside of blue strongholds like New York and California, Democrats could lose major races.
This problem goes beyond Joe Biden, of course. Democrats have spent the last few years ignoring Americans as they've chased radical policies.
And they sat back and let Joe torch our economy. They shouldn't be surprised they are poised to lose big, but they will be.
Key Takeaways:
Joe Biden's approval continues to sink, 40% to 58%.
Democrats are losing to Republicans, 48-40.
Biden's failures will impact Democrats' chances in the midterms.