Hours After Biden's Crushing Economic Report – Joe and the Liberal Media Act Like They're in Complete Denial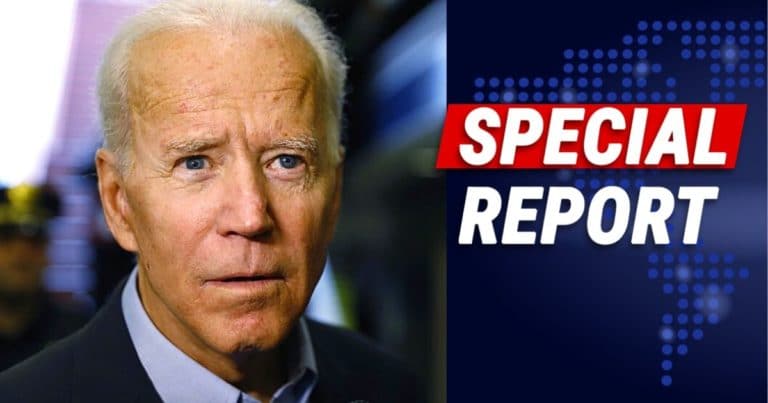 What's Happening:
"Don't underestimate Joe's ability to f#*! things up." – Barack Obama
Experts have been predicting this for a long time. Heck, Joe's own boss predicted it.
Biden's runaway government spending—and unchecked inflation—was going to hurt the economy. He kept claiming it was not going to happen.
But here is today's news. From The Washington Free Beacon:
The U.S. economy contracted again in the second quarter amid aggressive monetary policy tightening from the Federal Reserve to combat high inflation, which could fan financial market fears that the economy was already in recession.

Gross domestic product fell at a 0.9% annualized rate last quarter, the Commerce Department said in its advance estimate of GDP on Thursday. Economists polled by Reuters had forecast GDP rebounding at a 0.5% rate.
According to the most experts, the technical term for a recession is two straight quarters of contraction. Meaning America just found out it's been in a recession for the last quarter.
But Biden continues to buck—refusing to admit to any failure. From Fox Business:
President Biden reacted to Thursday's GDP report, saying it is "no surprise that the economy is slowing down" amid inflation…

The U.S. economy shrank in the spring for the second consecutive quarter, meeting the criteria for a recession as record-high inflation and higher interest rates forced consumers and businesses to pull back on spending.
All the signs are pointing to it. The writing's on the wall. Two consecutive quarters of decline meet the definition of a recession.
But all Joe can say is it's "no surprise" the economy is slowing down. Um… this is the same administration who claimed just a short while ago that the economy was "strong."
Inflation has been climbing every month Biden's been in office. High gas prices have put a stranglehold on nearly every corner of the economy.
Biden claimed we weren't going to enter a recession. Now, he pretends this isn't a recession while saying the economy is "slowing down."
Once again, he is ignoring the facts and refusing to take responsibility for what is going on. Whatever happened to "the buck stops here"?
Even his press secretary is scrambling, trying to gaslight us into thinking a recession is not a recession.
From YouTube:
President Joe Biden's White House Press Secretary Karine Jean-Pierre said, "two consecutive quarters of negative GDP" is "not the definition of a recession," during the White House press briefing on 7/27/2022.
When is this administration going to face the facts? Biden promised to "build back better."
Instead, we've only seen decline. What's really shocking is how little this administration is willing to take responsibility for the very decisions it made.
Key Takeaways:
The U.S. economy had two straight quarters of declining, meeting the definition of a recession.
Biden continues to claim we are not in a recession, trying to define the term.
The administration has refused to take responsibility for its many failures.
Source: The Washington Free Beacon, Fox Business, YouTube