President Biden Sent Spinning by the Experts – They Tell Joe His Plans to Fight Inflation Are Far Too Late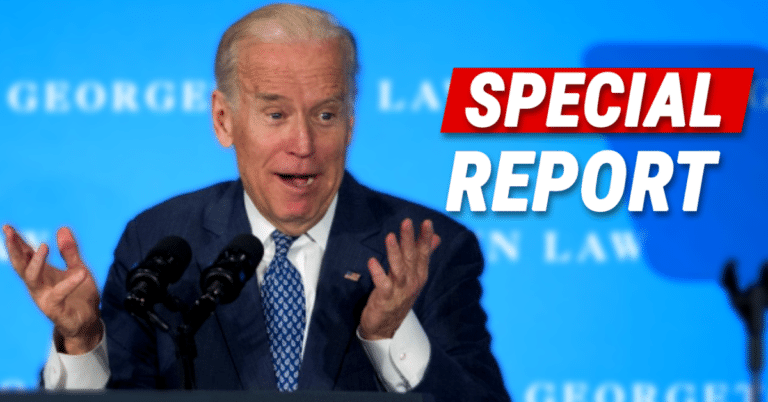 What's Happening:
For nearly two years, we've been warning about problems looming for our economy. But Joe Biden and his Democrats ignored the signs—and pushed radical spending policies.
The price of everything rose sharply over the last year, as Biden struggled to address problems and created his fair share of them. Now, he is scrambling to come up with a plan.
From AP News:
President Joe Biden is set to meet with Federal Reserve Chairman Jerome Powell as soaring inflation takes a bite out of Americans' pocketbooks and the president's public approval.
Only now, after nearly a year of inflation and problems, is Biden meeting with the Federal Reserve and discuss options. Joe also released a list of priorities to tamp down inflation, but none of them seem targeted to help in the short term.
But most experts agree on one thing: it's too little, too late.
From MSN:
Prices for just about everything Americans buy — gas, groceries, housing, cars, clothes, even TVs — have spiked in the past two years…

And it all seemed to catch Washington by surprise.

On July 19, 2021, President Biden played down the risk of persistent inflation, telling reporters that price hikes "are expected to be temporary." This month, Biden called reining in prices his "top domestic priority."
Only now, as Biden approaches a devastating midterm season, is he prioritizing inflation. This comes after over a year of ignoring the signs.
Experts are now saying Washington was late to address it and any plans Biden comes up with won't be enough.
Inflation happened, largely thanks to Biden. The media might blame 2020 and Russia, but we know the truth.
America was recovering from lockdowns by the end of 2020. But Biden put a stop to that with his "American Recovery Act" which triggered inflation by flooding the economy with 1 trillion in new dollars.
It also kept millions of people out of the job market, straining businesses trying to reopen.
Let's also not forget Biden's refusal to address the supply chain. And his open border, which flooded the country with over one million newcomers.
Now, his administration is scrambling to do something. Not because he appears to care, but because he only now realizes how much it will cost Democrats in November.
But as usual, his decisions are half-assed, sloppy, and not thought out.
Key Takeaways:
The Biden administration is scrambling to finally address inflation.
Experts warn that he ignored it for too long and that it's too late.
Many believe a recession will hit, hurting millions of Americans.