After Joe Biden Claimed No Family Ties To Foreign Business – New Evidence Shows Hunter Has A Stake In Chinese Firm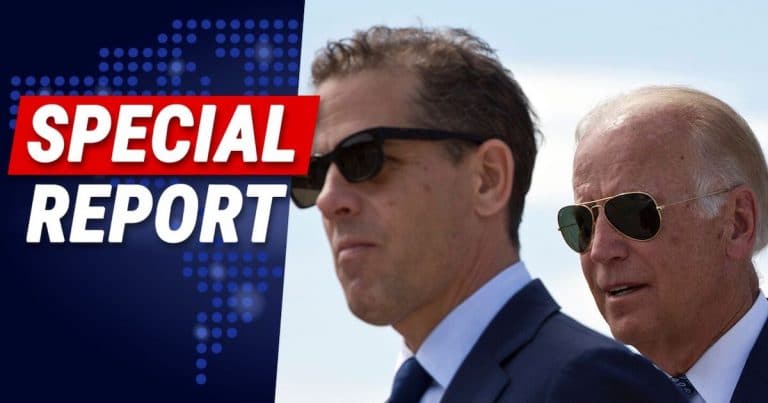 From the beginning, Joe Biden has said he believes his son is innocent of any wrongdoing. Though there's an ongoing probe into Hunter's overseas business dealings, Joe remains adamant.
And way back in October 2019, Joe Biden made the promise that if he was elected President, his family wouldn't be involved in any foreign business operations.
Biden was crystal clear at the time:
No one in my family will have an office in the White House, will sit in on meetings as if they are a cabinet member, will, in fact, have any business relationship with anyone that relates to a foreign corporation or a foreign country.
Biden has maintained this stance in recent months as well, which would indicate that nobody in Biden's family will have any connections to foreign businesses.
However, newly unearthed records show this currently isn't the case.
Via Fox News:
Hunter Biden still owns a 10% stake in a Chinese private equity firm, less than one month before his father, President-elect Joe Biden, is set to take office, business records reviewed by Fox News show.
Evidently, Chinese business records show that a U.S. company, Skaneateles, LLC, holds a 10 percent equity stake in Bohai Harvest RST Equity Investment Fund Management Co.
The latter company is headquartered in Shanghai, China.
Furthermore, it seems Hunter Biden "is the sole beneficial owner of Skaneateles," according to Washington corporate records.
Based on these findings, it would appear that Hunter is still connected to Chinese companies.
Now, one could argue it's an indirect connection as Skaneateles is an American company and merely holds stake in Bohai Harvest. And that might be a valid point.
But that still flies in the face of Joe's statement about not having "any business relationship with anyone that relates to a foreign corporation or a foreign country."
It's important to note that one source claims Hunter is "in the process of offloading his stake" in the Chinese investment firm.
That hasn't happened yet, though, and the investigation into Hunter's tax affairs continues as well. Hunter himself confirmed the probe on December 9.
On top of which, a separate "well-placed source" says Hunter Biden is the "subject/target" of a grand jury investigation, which could pose more problems for the Biden family in the future.
To be clear, Joe Biden is not the subject of any investigation.
Even so, with these newly released records, it's obvious that Hunter's connections to China haven't yet been fully severed.
And unless he wants to make a liar out of his father, those ties will have to be completely erased by January 20.
Key Takeaways:
Joe Biden said in October 2019 that no member of his family would be connected in any way with foreign corporations or countries.
But newly released records show Hunter Biden still holds a 10% stake in a Chinese company.
Hunter Biden is under investigation for his taxes. And one source claims he is also the subject of a grand jury investigation.
Source: Fox News