Biden Gets Red-Flagged Over Broken Pledge. The American People Are Going To Pay For It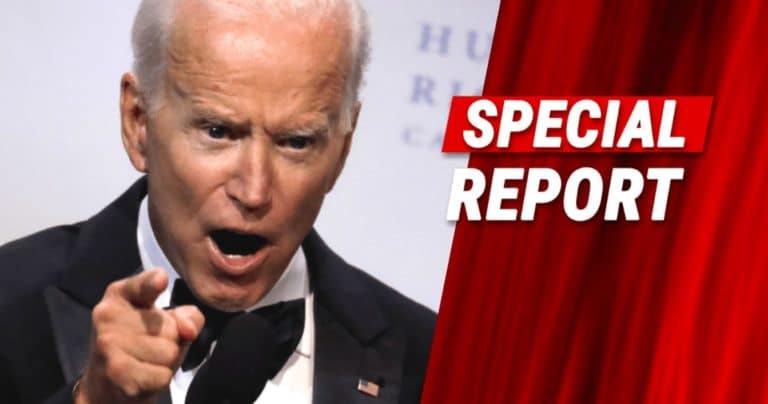 What's Happening:
When Joe Biden was running for president, he promised not to hurt the middle class. In fact, he vowed that he would only raise taxes on people who were earning $400,000 a year or more. Then, that changed to couples who earned $400,000 or more.
Democrats have been scrambling to produce a bill that fits Biden's drastic, socialist agenda. They are cramming as much spending in it as they can, to enrich their donors and put more Americans on welfare. But it comes at a price, a big price. And it looks like Biden is going back on his promise to the middle class.
From Red State:
The non-partisan Tax Policy Center has now taken a look at the draft provision of the bill. They're raising a red flag on it and saying that roughly 20 to 30 percent of middle-income households would pay additional taxes in 2022. That some low and middle-income households would be paying an additional $100 or less on average and households earning between $200,000 and $500,000 would pay an average of approximately $230 more per year if the plan is implemented.
The Tax Policy Center has revealed that if Biden's spending plan goes through, working- and middle-class families will be paying more taxes. Some estimates are about $100-$230 more, but we know those numbers can easily balloon higher.
Biden's socialist spending bill is crammed with provisions that will make life much harder for Americans. Businesses will be hammered with new regulations, expenses, and taxes.
That will result in layoffs and higher costs. Working Americans will find everything more expensive (more than what we've seen this year). And that doesn't even include the high cost inflation is adding to your daily bills.
On top of that, you could end up paying more come Tax Day. And that doesn't even get into what will you be paying for state taxes, sale tax, and property tax.
Now, why would Biden be going back on his pledge? I thought he could easily pay for his radical plans by taxing the "richest" Americans? He often complained that rich Americans aren't paying their fair share. Why does it always seem that Democrat spending bills always hurt the people they are supposed to help?
Biden promised to "build back better." I guess he only meant for the ruling elite, rich liberal donors, and those who could avoid paying new taxes. The rest of us? Not so much.
Key Takeaways:
Joe's new spending bill could raise taxes on the middle class.
The Tax Policy Center claims their taxes could raise up to $230.
Biden had previously vowed only the rich would pay more in taxes.
Source: Red State