Scary Biden Gaffe Puts America at Risk – Joe Just Spilled 1 Very Dangerous Secret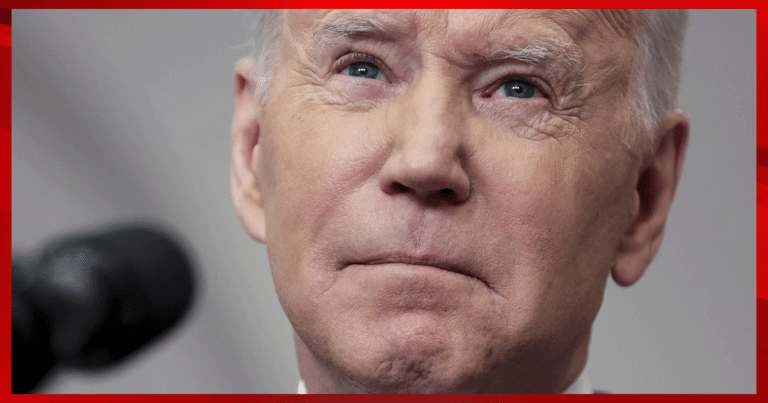 What's Happening:
You know pretty much by now that Joe Biden is losing it. On a daily basis, he makes troubling mistakes that have millions of Americans worried about his mental health. Democrats and the White House refuse to provide an honest response to questions about this 80-year-old man's cognitive abilities.
But now, finally, Biden's declining mental ability has put all Americans at risk.
We all know it's highly suspicious that Biden keeps sending weapons to Ukraine. A "president" that claims to love peace keeps bankrolling a war that is poised to destroy Europe. Just recently, he upset many with the news that he had sent Ukraine "cluster bombs." While being questioned about this by CNN, Biden lets slip sensitive information that should have stayed secret.
From Daily Wire:
President Joe Biden faced backlash on Sunday after he revealed sensitive U.S. military information during an interview that critics said could make America's adversaries more aggressive.

Biden told CNN's Fareed Zakaria that the reason that he is giving cluster munitions to Ukraine is because the U.S. is running out of 155mm artillery shells…

"The Ukrainians are running out of ammunition," Biden responded. "The ammunition, that they used to call them 155-millimeter weapons. This is a war relating to munitions, and they are running out of that ammunition and we're low on it."
Biden revealed, in an interview with CNN, that the reason he sent Ukraine cluster bombs was because "we're low" on 155-millimeter artillery shells. Uh… is this man senile or just a total idiot? Why would he admit to the world that we are low on critical ammunition?
Isn't that something you don't want your enemies to know? And the United States has plenty of enemies, many more since Joe Biden took over.
I'm sure Karine Jean-Pierre or the Pentagon will brush off this disturbing gaffe. But Biden let slip information that shouldn't have been shared publicly. But what about next time? What if he lets slip something really damaging?
What if he does that while speaking with someone from China, Russia, or Saudi Arabia? Maybe he already has!
He might reveal information that puts all Americans in jeopardy. Information that can be used by our enemies to hurt us.
You know, this kind of thing can only happen, when you have a "president" who shows obvious signs of mental decline. Trump would never do that. DeSantis would never do that. Hell, Kennedy would never do that.
But Joe Biden has… and probably will again.
Key Takeaways:
Biden let slip sensitive military information during an interview with CNN.
The Democrat said that the United States was "low" on 155-millimeter artillery shells.
This comes as many believe Joe Biden's mental health is declining.
Source: Daily Wire