After Months of Biden Sitting on His Hands – The President Finally Gives in and Activates Defense Production Act for Formula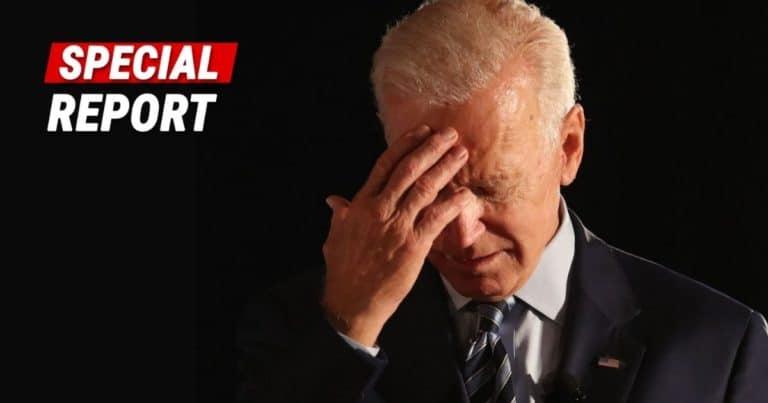 What's Happening:
As Biden sent billions of dollars to Ukraine, Americans have been suffering numerous crises. Perhaps most embarrassing has been the baby formula shortage.
Republicans blasted Joe over signs he was shipping pallets of the stuff to the border. Meanwhile, U.S. store shelves are literally empty.
Now, after basically doing nothing for months, Biden is getting his act together.
From NBC News:
President Joe Biden on Wednesday invoked the Defense Production Act in a major step to boost the supply of baby formula.

The announcement means the federal government will prioritize key ingredients for formula production and compel suppliers to provide the needed resources to formula manufacturers ahead of other customers ordering those goods.
Well, look at that! There's someone in the White House who knows what to do.
The Biden administration is invoking the Defense Production Act to help address the baby formula shortage. This bill allows the government to compel companies to provide the needed ingredients to supply demand.
With this bill activated, companies will be able to quickly provide and produce formula and restock shelves.
It's pretty sad it had to come to this. The last time this bill was used was in 2020, when Trump used it to speed up the production of life-saving ventilators and PPE.
But that was during a serious crisis that suddenly hit the country. Biden allegedly knew about this shortage last year.
And his administration shut down the country's largest baby formula plant in February. It is still closed, as this crisis rages.
Many Americans are wondering how we got to this point in the first place? How can, of all things, baby formula in America run dry?
But this is par for the course, for an administration that can't even get ships docked at ports. Biden is wasting our time and money on radical, progressive causes, but can't even keep the lights on.
It makes us wonder, what's going to run out next? Oxygen?
Key Takeaways:
Joe Biden's administration is invoking the Defense Production Act to address the formula shortage.
The bill allows the government to require companies to produce needed supplies.
This comes as Biden neglected this impending crisis since 2021.
Source: NBC News