Biden's Latest Handshake Could End His Presidency – Seconds After Shaking Schumer's Hand, He Goes for it Again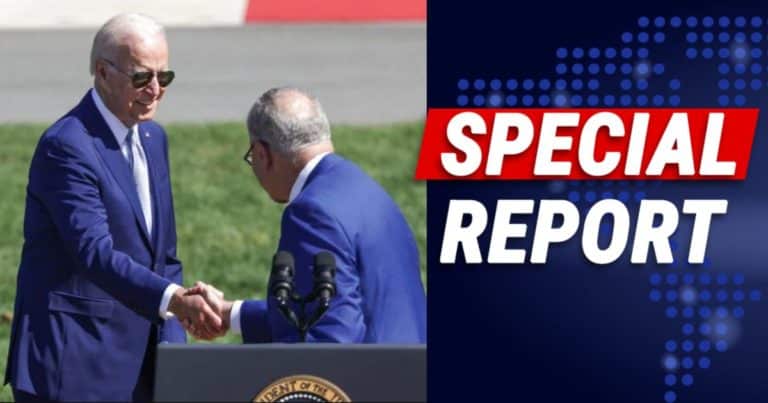 What's Happening:
Oh, geez. For—how long has it been—over two years, we've worried about Joe Biden. From the moment he launched his presidential campaign, we've seen the signs.
It only got worse through 2020, to 2021, and now. The evidence is piling up that this 79-year-old man is not well.
And here is yet another video that should have Americans very concerned.
From Twitter:
All it takes is like 5 seconds for Joe Biden to forget he shook Chuck Schumer's hand.

Scary. pic.twitter.com/c4dNRRaDVO

— Steve Guest (@SteveGuest) August 9, 2022
All it takes is like 5 seconds for Joe Biden to forget he shook Chuck Schumer's hand.

Scary.
As you can see from the video, Chuck Schumer turns to shake the hands of the Democrats behind him.
The very first person's hand he shook was Joe Biden's. But almost immediately, Joe raises his hand to seemingly shake Schumer's again.
Uh… did Joe forget that he just shook Schumer's hand? Why is he holding up his hand like that, if he knew he already shook Schumer's?
In fact, if you look at Biden's gesture, it appears as if he is upset that Schumer went to shake Pelosi's hand, but not his.
He gradually lifts his hand to his lips, as if to play off the moment.
Add this moment to the hundreds we've already seen.
How many times have we seen Joe shuffle around like a confused old man, fumble his words, look confused and disoriented, or show other disturbing signs of decline?
Former White House physician Ronny Jackson has long demanded that Joe take a cognitive exam. But not only have Democrats ignored him, but former President Obama actually rebuked Jackson for raising concerns.
What else are we to assume but that Democrats know the man is unwell, but are working very hard to cover it up?
And if that's true, there might not be words to describe that kind of cruelty—both to him and to us.
Key Takeaways:
A new video appears to highlight Joe Biden's continued mental decline.
After shaking Schumer's hand, Joe lifts his hand again—as if he forget he just shook Schumer's.
This comes after numerous moments that suggest Biden is unwell.
Source: Twitter