Biden Goes After Horseback Border Patrol – After It's Shown They Didn't Use Whips, Joe Plans to Discipline Them Anyway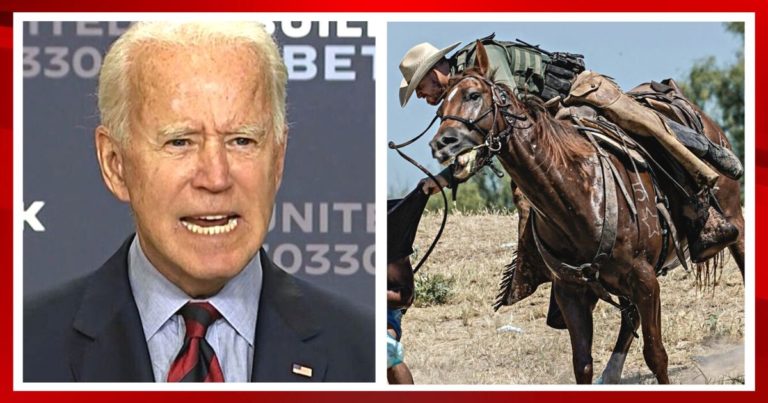 What's Happening:
Because of Joe Biden's lax policy on the border, millions of migrants have entered the U.S.
Border Patrol has received little support—and has been slandered by the liberal media. In one infamous incident, networks accused law enforcement agents of "whipping" aliens.
Now, Biden's DHS is set to "punish" these men for upholding the law.
From Fox News:
The Department of Homeland Security is preparing to discipline "multiple" horseback Border Patrol agents involved in the infamous "whipping" incident of Haitian migrants at the U.S.-Mexico border back in September…

Many Democrats and media outlets falsely described the agents' long reins, which they use to control their horses, as "whips."
The media had a frenzy last year when images of Border Patrol agents on horseback were released. Democrats and their liberal media surrogates claimed these law enforcement officers were "whipping" aliens.
The reality? They were using long reins to control their horses. No one, not even migrants, was being whipped.
But the Biden administration sided with the false reports from the media and attacked these agents, men who are forced to defend our border with little support.
Now, it appears the DHS is about to punish these officers for "administrative violations." What that means is anyone's guess.
We know that these officers were part of a mounted patrol and were following proper protocols. It does not appear they were violating any rules.
This comes during one and a half years of Border Patrol being forced to deal with a massive border crisis.
Biden's refusal to defend our border has put these officers in a difficult position. They have to protect the border from invaders, but are being criticized and painted as villains by the MSM.
Now, their own agency is going to "punish" them. It's a wonder any of them stick around.
Key Takeaways:
The DHS will punish Border agents over the "whipping" photos.
The liberal media falsely accused mounted officers of whipping aliens.
These officers will face charges of "administration violations."
Source: Fox News