Joe Biden Caught On Hot Mic In Swing State – NC Governor Tells Joe He'll Drag Scandal-Plagued Cunningham Over The Line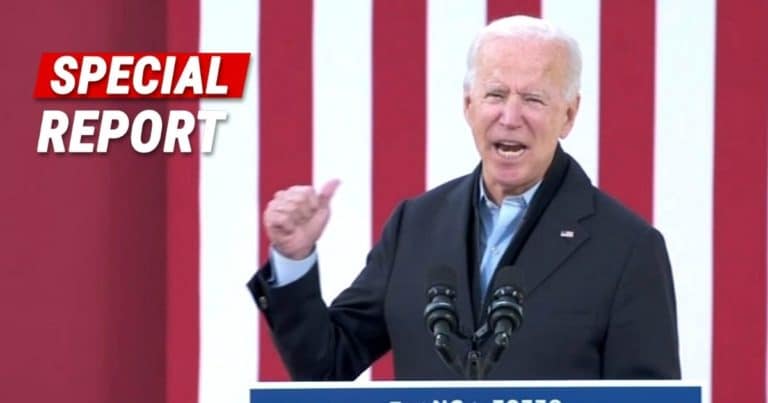 What's Happening:
If Democrats are good at anything, it's sweeping scandals under the rug.
And boy do they have a lot them to sweep up.
Joe Biden has avoided answering the court-packing question. Now, the media is trying to cover up the Hunter email bombshell.
Another scandal has rocked a key senate race. And Democrats think they can still get the man elected, despite his shocking behavior:
Ouch 😬 Gov. Roy Cooper caught on a hot mic today telling Joe Biden they're going to try to drag the disgraced Cal Cunningham across the finish line following his affair with the wife of a combat veteran.

"I know that's frustrating, but we'll get him across." #NCsen #NCpol pic.twitter.com/ToUGBrG16P

— Joanna Rodriguez (@joannamrod) October 19, 2020
North Carolina Gov. Roy Cooper appeared to call Senate candidate Cal Cunningham's scandal "frustrating," but predicted his campaign would "get across the line" during a conversation with Democratic presidential nominee Joe Biden that was caught on a hot mic on Monday…
These days, we know a "hot mic" might be anything but. Biden's campaign has "leaked" things in the past.
So, it might not be much of a surprise to "hear" them discussing this scandal-rocked candidate.
Cal Cunningham has been exposed over several scandals, including apparently two extramarital affairs.
On top of that, a watchdog organization is demanding the FEC look into how he spent campaign money.
But none of that matters to Democrats, who think they can "drag him across the line."
In the past, even party members would have condemned a candidate for wrong behavior.
But these days? Democrats think they can excuse inexcusable behavior because they need to win elections.
It seems they no longer care about integrity and character, so long as they get seats in Washington.
Joe Biden doesn't seem all that upset about what Cunningham has been doing. The governor all but admits the charges were true.
You'd think a man like Biden—who claims to be a champion for women—would call out Cunningham's behavior.
But no, he's silent. Maybe it has something to do with Joe's own questionable history with the ladies?
Key Takeaways:
Gov of North Carolina was heard admitting Cunningham's scandals to Joe Biden.
He claimed they would "drag him across the line" despite Cunningham's affairs.
Democrats refuse to call out the candidate's behavior.
Source: Fox News