Biden Held Hush-Hush Meeting On His 'Greatness' – Leaked Report Shows Joe Wants To Be Like FDR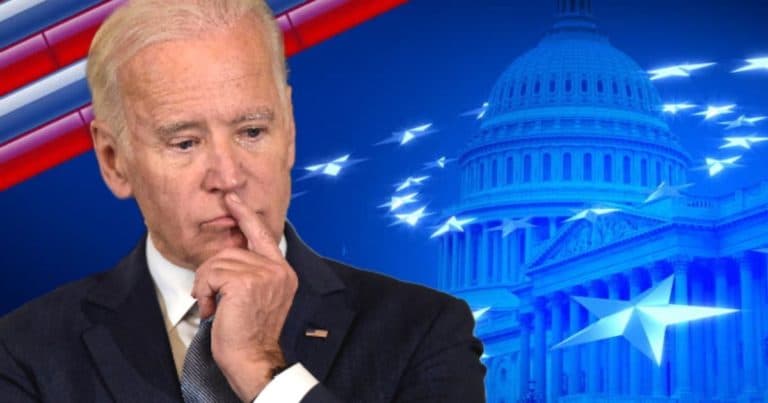 What's Happening:
Biden made a variety of promises while running for president. He said he would be a "one-term" president. He also said he would "bring things back to normal" after Trump.
(If he meant high energy prices, low jobs, and a weak border, we don't want "normal".)
But Biden has already reneged on plenty, so why wouldn't he go back on all this?
He held a meeting that was kept from the public. Biden apparently sat down with historians to discuss his "legacy."
And it looks like he has no intention of being a "one-term," "normal" president.
From Axios:
Hosting historians around a long table in the East Room earlier this month, President Biden took notes in a black book as they discussed some of his most admired predecessors. Then he said to Doris Kearns Goodwin: "I'm no FDR, but … "

He'd like to be. The March 2 session, which the White House kept under wraps, reflects Biden's determination to be one of the most consequential presidents.
From The Hill:
But now more than ever, those around him say he'll make another bid for the presidency.

"I don't think there's any reason to say that he won't," said one longtime adviser to the president.
According to reports, Biden wants to one of the "most consequential presidents" in our history, comparing himself to FDR.
And aids are saying that he is eyeing a second term to achieve that lofty goal.
FDR was the only president elected to office for four terms. After that, an amendment was passed to limit a president to two terms.
But it's troubling that Biden wants to model his administration after a socialist like FDR. While Roosevelt is remembered as the president that "got us through" the Great Depression and WWII, he imposed radical changes that still burden our country to this day.
He was the man who implemented socialist reforms that created a massive tax debt on the country. Social Security was just one of his "innovations."
FDR appears so power-hungry, that there was talk at one point of the military forcibly removing him from office. (I bet that's something you didn't read about in your socialist public school.)
FDR was president during a volatile and uncertain time in our nation's history. And his 4-term agenda did not help things.
Does Joe Biden want America to be as turbulent and unsettled as it was back then? Does he want to impose drastic, socialist programs that will bankrupt our children's futures?
Because that's what it would mean for him to be "like" FDR.
Key Takeaways:
Joe Biden claimed to be a "one-term" leader that would return America to "normal."
Now, he is talking about running for a second and modeling himself after FDR.
A closed-door meeting was leaked, where he talked about his lofty goals and "legacy."