Biden Just Broke His Inauguration Promise – By Signing All-Democrat Relief Bill, Joe Failed To Be Bipartisan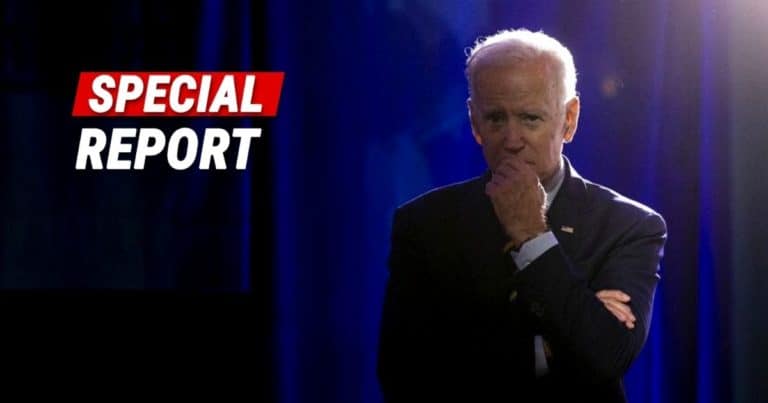 What's Happening:
Joe Biden got what he wanted—but it may have cost him more than he thinks.
He just signed the Democrat's rushed and bloated "relief" bill, one that provides billions to programs unrelated to the virus.
They forced this bill through reconciliation—not one Republican voted on it.
From Fox News:
President Biden on Thursday signed into law the sweeping $1.9 trillion coronavirus relief package that Democrats muscled through Congress without any Republican support, securing the first big legislative win of his presidency.
I wouldn't call this a "win," however. When you have to use the "nuclear" option to get things done, you're not living up to your promise.
Biden promised to be a bipartisan leader, right? Then why did Democrats in Congress refuse to let Republicans in on this process? This is what he said, not long ago.
From NY Post:
"I pledge this to you: I will be a president for all Americans, all Americans. I will fight as hard for those who did not support me as those who did."

"Politics doesn't have to be a raging fire, destroying everything in its path. Every disagreement doesn't have to be a path to total war."
Biden claimed he could "start afresh," by working with all Americans. Wouldn't that mean he'd care what Republicans in America think about COVID relief?
He said politics don't have to be a "raging fire." Yet Democrats raged in Congress, pushing a bill that deliberately ignores every single Republican concern.
It seems the Washington swamp is roaring back to life, providing billions in tax dollars to special interests, while throwing hard-working Americans crumbs.
Democrats are demanding to rule, come hell or high water. If Republicans refuse, they will find ways to box them out.
When Trump was president, he looked for ways to get input from his Democratic colleagues. Yet time and again, bitter Pelosi and Schumer refused.
Biden hasn't bothered to urge Congress to cooperate. He's slandered Republican state leaders and signed into law a bill that will bankrupt the country.
If he truly can't bring the government together, Americans just will have to replace who's in charge in the next few years.
Key Takeaways:
Joe Biden signed the bloated $1.9 trillion "relief" bill into law.
The bill passed with zero Republican input or support.
Biden has betrayed his Inaugural promise to be bipartisan.