Trump Hammers Biden on Top Voting Issue for Families – He Claims Joe's Runaway Prices Are Costing Families Up to $1,000/Month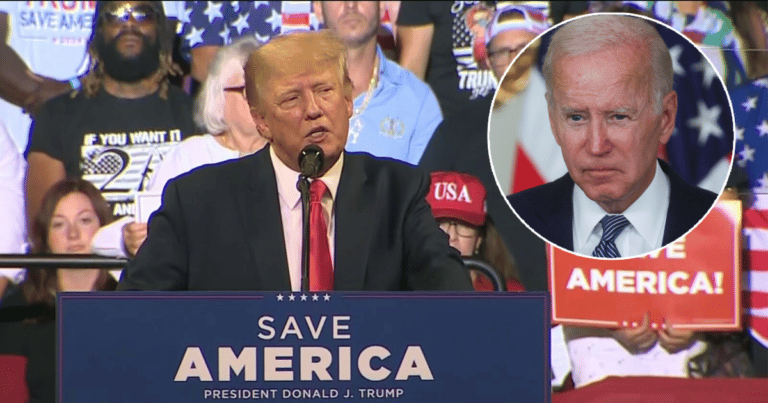 What's Happening:
Most Americans know firsthand how "effective" Joe Biden's been as president. His failure to correct inflation is costing Americans big time.
But just how badly has inflation hit most homes? You might not have been able to put a number on it. Donald Trump did it for you.
And he's revealing how much Biden's idiocy has cost you, per month.
From The Epoch Times:
Former President Donald Trump spoke about the impact of runaway prices on American families and described a "nation in decline" while rallying on behalf of his endorsed candidates in Arizona over the weekend, urging rally-goers to vote Democrats out of office and "save this country."

Telling rally-goers that rampant inflation was costing Arizona families $1,000 per month and calling on "hard-working patriots" to vote Republican in the mid-terms and "save this country."
$1,000 per month. $1,000 per month! Can you believe how much Biden is costing you and me?!
Thanks to Biden's reckless spending, failed leadership, and overall incompetence, Trump claims prices for everything have spun out of control.
The 45th president revealed that gas prices have surged 86% since Biden took over. Prices for food, clothing, and most basic necessities continue to climb.
Overall, Biden's inflation is costing Americans are additional $1,000 a month. That's more than most Americans can afford, by far.
Do you have an extra grand to spare each month, to cover Biden's screw-ups? I doubt it.
Biden started his administration by burning through two trillion dollars. He gave Americans $1200 checks–was it worth it?
You've been "paying back" that stimulus ever since. That has cost most Americans tens of thousands of dollars over the last two years.
This is why Trump and those evil "MAGA" Republicans are so against government spending. It might have been nice, for a minute, to get that $1200 bribe.
But, since then, it has only destroyed our economy. Americans are struggling to feed their kids (literally, in the case of the baby formula shortage) and Biden does nothing.
Actually, he does worse than nothing, since he's blaming other people for his own failures.
Voters will get to strike back at Biden's inflation, come November. And old Joe might not like what they have to say.
Key Takeaways:
Trump slammed the Biden-induced inflation during a rally in Arizona.
The 45th president revealed Biden's inflation has cost American families $1000/month.
Biden has tanked the economy with his socialist policies and reckless spending.
Source: The Epoch Times