Biden Just Did THIS To Pamper Illegals – Joe Wouldn't Even Do It For Our Troops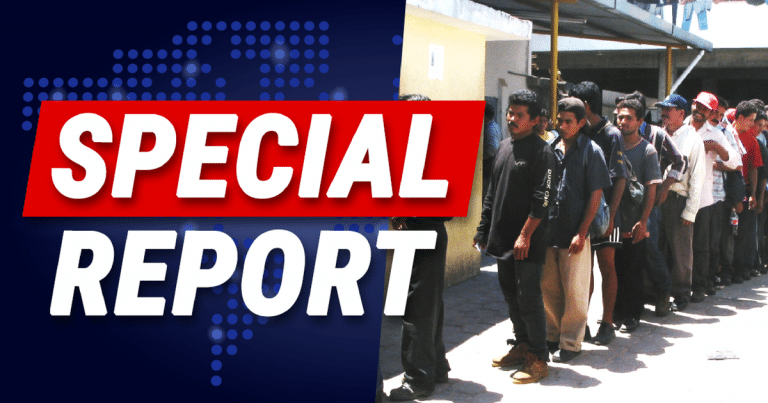 What's Happening:
Remember when Nancy Pelosi and Joe Biden demanded our National Guardsmen to hang out in D.C.?
Despite a lack of a credible threat, thousands of our troops were forced to go to Washington.
Many Americans, including Republican lawmakers, were sickened to see our men and women sleeping on floors, on the streets, and in garages.
Others reported guardsmen were getting ill from substandard food and toilets.
It seems the "millions" spent to keep troops in D.C. went to the very top. The rest of them were literally out in the cold.
But look what Biden is all too happy to do for illegal immigrants who bombarded the border?
All on your tax dime?
From Fox Business:
Immigration and Customs Enforcement is securing hotel rooms to handle the growing influx of illegal families crossing into the United States.

The Biden administration has awarded ICE an $86.9 million contract for hotel rooms near the border to provide temporary shelter and processing services for families who have not been expelled from the United States but have been placed in immigration proceedings for their removal.
Because Biden refuses to deport illegals or have them remain in Mexico (as Trump did), he quickly ran out of room for them in detention centers.
Again, instead of just sending them back over the border, Sleepy Joe is putting them up in hotels!
Hotels will be forced to accommodate illegal aliens all along the border. And just how much is Biden paying for their room and board?
A shocking $86.9 million. Um… are they getting put up in 5-star suites? Where is that money going?
You can stay in a fleabag motel for $30 a night? Why is Biden spending this much?
When our troops were ordered to "guard" D.C., Biden refused to give them quality housing. Some went to the hospital from the garbage food they were giving them.
Yet Biden can shell out this much money for people who broke our immigration laws?
He really is taking crazy pills, isn't he?
Biden thinks he can do this and get away with it, I guess. He doesn't expect Americans to be outraged and demand an answer.
But I have a feeling that if enough of us spread the word, he'll have no choice but to respond.
Key Takeaways:
Joe Biden will spend $86.9 million on housing for illegal aliens.
Instead of having them remain in Mexico, he is putting them up in hotels.
This comes as Biden continues to pretend there is no crisis on the border.
Source: Fox Business