Biden Blindsided by Latest Impeachment Move – And It's Coming Sooner Than Joe Thinks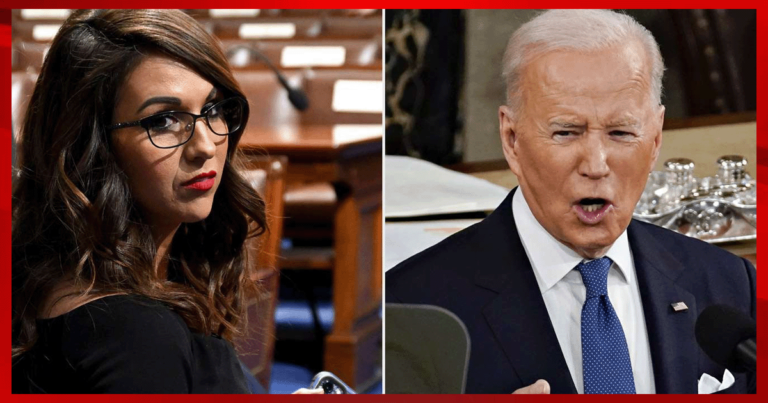 What's Happening:
Republicans have been talking about getting Joe Biden for a while now. But where is the action? Democrats claim that Biden has done nothing deserving of blowback. I guess they haven't been paying attention.
House Republicans have uncovered a treasure trove of information, that makes Trump's issues look like child's play. It is possible that Biden was conducting a bribery scheme with foreign entities. But still, when will he be held accountable? Well, one Republican just sped the process up, big time.
From The Washington Examiner:
Rep. Lauren Boebert (R-CO) introduced articles of impeachment against President Joe Biden.

Boebert introduced the motion on Tuesday evening, teeing the motion up for a full vote this week, according to a whip notice. Because Boebert brought the impeachment articles to the floor as a privileged resolution, House rules dictate the legislation should be voted on within two days, even without the approval of leadership.
BREAKING: I am bringing my articles of impeachment against Joe Biden to the House Floor in a privileged motion, meaning that every Member of Congress must vote on holding Joe Biden accountable.

— Rep. Lauren Boebert (@RepBoebert) June 20, 2023
Republican congresswoman Lauren Boebert used a privileged resolution to introduce impeachment articles against Joe Biden. She is accusing him of allowing an "invasion at the southern border."
She is accusing him of two things, abuse of power and dereliction of duty. It appears this impeachment is based solely on Joe Biden's role in the ongoing border crisis. Which means, it will have a hard time getting passed in the House.
Biden certainly has neglected the border. But it will be hard to convince Congress that this constitutes the "high crimes and misdemeanors" standard for impeachment. Unless Boebert and company can prove Biden deliberately broke the law to let in illegal aliens, this motion is DOA.
Not that we disagree. From all appearances, Biden's administration has gone out of its way to encourage illegal immigration. It has refused to deport criminal aliens and has prevented Border Patrol and DHS from properly policing the border.
But is Biden responsible for this? Other Republicans have focused their efforts on Mayorkas, the man in charge of the DHS. He is the one issuing memos restricting the agency's ability to deport aliens.
The fact remains, there are too many Democrats and RINOs in the House for this motion to survive. Republicans will need an Ace in the Hole to defeat Biden. Something so damning that even Democrats will have no choice but to impeach.
Until that time comes, he is safe.
Key Takeaways:
Boebert introduced articles of impeachment against Joe Biden.
The Republican is accusing Biden of breaking the law over the border crisis.
Biden has neglected immigration law, allowing chaos to run rampant.
Source: The Washington Examiner