President Biden Is Losing It Right Away – After A Reporter Presses Joe, He Starts Begging For A Break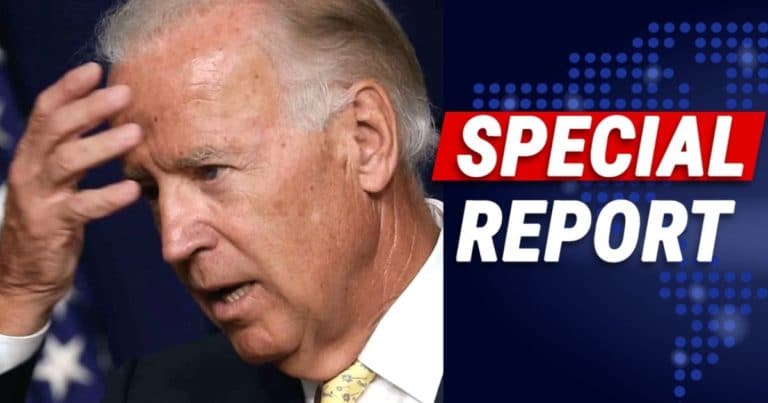 What's Happening:
Joe Biden is now showing America how he reacts to the slightest bit of pressure: not well.
Biden seems to be used to getting praise from the mainstream media. So much so, that he doesn't seem ready for any real kinds of questions.
When a reporter asked him a remotely real question, this is what happened. From IJR:
As he was signing executive orders in efforts to combat the COVID-19 pandemic, a reporter pressed Biden on whether his goal is enough to save the lives of Americans…

Biden laughed and replied, "When I announced it, you all said that it's not possible. Come on. Give me a break, man. That's a good start, a hundred million."
When asked about his goal, Joe Biden didn't seem all that pleased. He made up the media's response: "You all said that it's not possible." Actually Joe, we didn't see anyone say it wasn't possible. In fact, that is pretty much the track Trump put us on.
So he's making up a straw man to knock it down instead of being straight with the American people. We would have expected an answer from Joe such as, "We are evaluating our goals at the moment and will adjust as needed."
Instead, Joe laughs uncomfortably, and throws out his trademark "Come on, man!" He then tells the reporter to "give him a break," as if asking that question was just too much for him.
We've seen over the years how Biden quickly loses his temper when a reporter asks him something he doesn't like.
It's as if he only expects softballs from the MSM—and is outraged when asked anything truly challenging.
If he gets flustered over something this simple, how is he going to handle real challenges when they come?
For everything the left said about Trump's treatment of the media, he would always answer their questions better than this.
The media cranked up the difficult questions to a 10, throwing fastball after fastball, and Trump would answer the questions simply so the American people could understand.
Joe, on the other hand, can barely handle a few softballs, and when he gets called out for setting big goals that are pretty much going to happen without any extra effort, he breaks down.
Once again, America is seeing two different standards. One for Republicans, and one for Democrats. The media coverage of Biden's inauguration was fawning and sugary, saying it was one of the best even though there were more troops than attendees in Washington D.C.
How is that anything but depressing?
And they keep highlighting Biden's call for unity, but his actions look nothing like that. He orders people to mask up on federal property while he breaks his own rules hours later.
He says he is going to bring the country together and then dumps dozens of executive orders to undo as much of Trump's work as he can. He's halting work on the border wall and trying to divert those funds. He is stopping the Keystone XL pipeline, ending thousands of jobs and probably raising the price of gas for Americans.
It's more important than ever to hear balanced coverage about Joe Biden. The mainstream media is clearly sending signals they will only act as the state media, rubber stamping anything he does.
So make sure to stay tuned to your alternative media for balanced coverage on the President and what the Democrats are trying to do to transform the country.
Key Takeaways:
Joe Biden snapped at a reporter after he asked about his vaccine goals.
Biden said, "Come on, give me a break, man" after hearing the simple question.
Biden has a history of losing his temper over questions he doesn't like.
Source: IJR