Even Though Biden's Media Polls Are Holding Up – Democrats Admit To Worrying About 2016 Repeat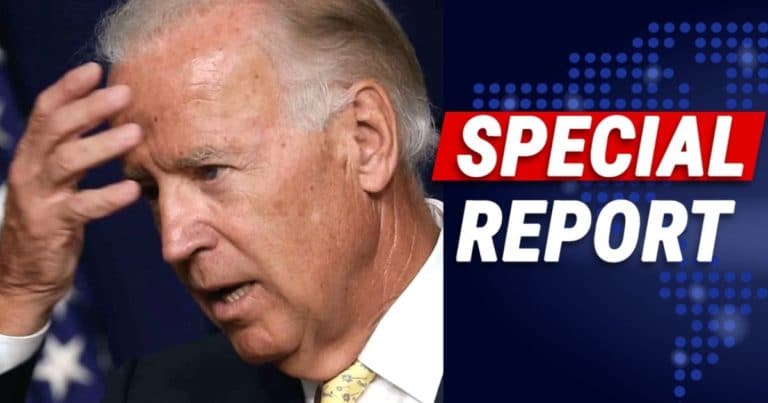 What's Happening:
Biden and his allies in the media are propping up his bizarre campaign with polls.
Despite his utter lack of events, troubling performances, and shocking lack of supporter enthusiasm, they still claim he is a shoo-in.
But behind closed doors, Democrats are starting to panic. Because when they look at their polls from 2016, Hillary was leading too.
Could their (biased) polls be broken?
A few Democrats are starting to admit it:
In interviews, those who work on Democratic campaigns voice suspicion over Biden's lead, confident that something else will go wrong just as it did four years ago when Hillary Clinton's advantage evaporated in the weeks leading up to Election Day. Many go so far as to compare their skepticism to a form of post-traumatic stress.
Despite what the polls say, more and more Democrats are expressing doubt over Biden's chances.
They should be worried. Joe Biden hasn't held a major rally in months.
He's spent months in his basement. During a global pandemic, he's done very little but complain about the job our President has done.
His party was quiet on riots and looting. Only after months of destruction and a drop in the polls did Biden bother to condemn the violence.
But still, he has called for few tangible solutions.
And that's not getting into his many scandals that follow him at every turn. Nor his increasing signs of mental decline.
Some Democrats have called for Biden to cancel the debates. Many fear "something" will happen from now to November that will eliminate Biden's chances.
We know that Biden will crumble at Trump during the debates. The man can't finish a sentence without a teleprompter.
How will he go toe-to-toe with Trump?
Many Americans doubt the MSM's polls. Far too many of them have been wrong in the past. Plus, many know that polls haven't improved since 2016.
With a candidate as weak as Biden Democrats should be getting more and more worried as they near election day.
They won't have enough forged mail-in ballots to turn the tide in their favor.
Key Takeaways:
Despite the polls, many Democrats fear a repeat of 2016.
Democrats believe something will happen between now and the election to spoil Biden's chances.
Biden has done little campaigning since the lockdowns and shows signs of dementia.
Source: The Hill