Joe Biden Loses It At New Hampshire Townhall – On Live TV He Calls A Woman A "Dog-Faced Pony Soldier"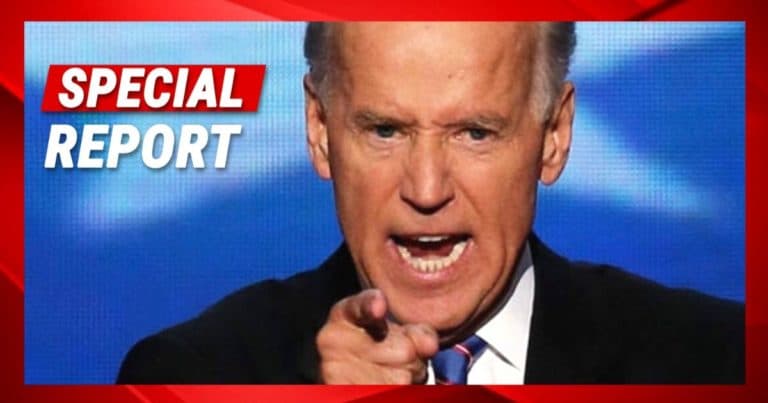 Ah, poor ol' Joe Biden. People considered him the Democrat's top man. He was the only guy who could really beat Donald Trump in November, many said.
It hasn't worked out that way. Maybe Obama was smart to withhold his endorsement?
Biden was going to sweep the Iowa caucuses. Instead, he came in fourth, behind people like Mayor Pete and Socialist Sanders.
Things aren't looking very good in New Hampshire, either. And it looks like Biden just made things worse.
During a town hall meeting, a young woman asked him if he could turn it around and win. Fair enough question, right?
As usual, Joe proves he doesn't like getting asked the tough questions.
Because he snapped at this lady in truly bizarre fashion.
From Fox News:
The student, Madison, of Mercer University in Georgia, began by asking Biden how he could remain competitive in the race after that performance.
"It's a good question," Biden responded. "Number one: Iowa's a democratic caucus. You ever been to a caucus? No you haven't. You're a lying, dog-faced pony soldier. You said you were; but now you got to be honest. I'm gonna be honest with you. It was a little bit confusing in Iowa."
Uh… what did I just watch? What the heck is a "dog-faced pony soldier"?
It sounds like something from one of those old Western movies. Is Joe Biden stuck in the 1950s??
What in tarnation was that cowpoke thinking!?
That's not a great way to talk to a young woman, by the way. Aren't Democrats supposed to be so supportive of women?
Do liberals think it's empowering to call a woman a liar for just asking a question? Then to follow that up with saying she's dog-faced?
The media often accuses Trump of being rude to women. But have you ever heard him insulting one like that?
Think about it, this was a potential supporter to boot! He wasn't talking to a MAGA hat-wearing patriot (not that that would justify it). This woman was considering voting for him.
Probably not now.
Not great, Joe. More and more it looks like you want to lose this race.
SHARE to tell everyone Joe Biden is done for!
Source: Fox News