Biden Nominee's China Connection Comes Out – His U.N. Ambassador Pick Got Paid $1,500 To Praise Them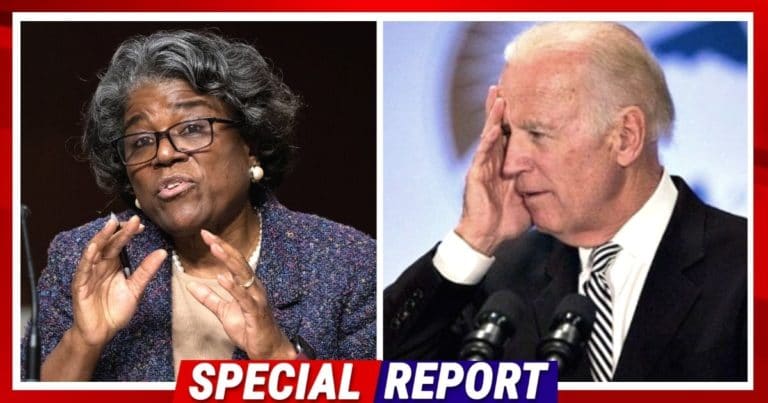 What's Happening:
Joe Biden claims he won't be soft on communist China. Eh, we're not all that convinced.
Remember, this is the same guy who said of a government who abuses their people that they aren't "bad folks." The same guy whose son got millions from Chinese investors.
Biden just banned the use of the "China virus" among federal agencies, even as some say "The UK and South African variants."
And now, one of his top picks has some concerning connections with the CCP.
From Daily Wire:
President Joe Biden's nominee for ambassador to the U.N. is facing controversy after a recent news report revealed that she praised communist China's success in Africa at an event that was hosted by a Chinese Communist Party-funded organization…

Washington Post reporter Josh Rogin wrote this week that Linda Thomas-Greenfield "praised China's success in Africa and got paid $1,500" during an October 2019 speech for "Georgia's Savannah State University in honor of the fifth anniversary of its Confucius Institute," Politico reported.
Joe Biden wants our ambassador to the U.N. to be a woman who praised China during an event. Something she received $1,500 to do.
It's never a comfortable thing to see American leaders praise a dictatorship known for abusing minorities and oppressing regions like Hong Kong.
So what if we do business with China. So what that China invests billions in American businesses, industries, and universities.
Do we really have to sell our soul to a corrupt government that persecutes its own? Hey Linda, ever hear of the Uyghur? I doubt it.
Why is Biden so determined to bend over backward for China? Remember Trump's first pick to the U.N.? Nikki Haley. She was a firebrand that blasted the corrupt organization for bowing to groups like China and Iran.
Will Ms. Thomas-Greenfield be that bold? The only thing Democrats are bold about these days is attacking Trump—and our traditions and values.
Something tells me a woman willing to praise China for money isn't going to be a stellar ambassador.
Perhaps Biden picked her, because it'd look good in the media. Perhaps Biden doesn't even know what he's doing?
Do you think that might be the case?
Key Takeaways:
Biden's nominee for U.N. ambassador praised China during an event.
Linda Thomas-Greenfield celebrated China in a speech she was paid $1,500 for.
Biden has a long history of getting chummy with the communist regime.
Source: Daily Wire