Biden Loses It on Live TV Over NRA Comment – Joe Jumps Up on Prime Minister and "Jokingly" Leaves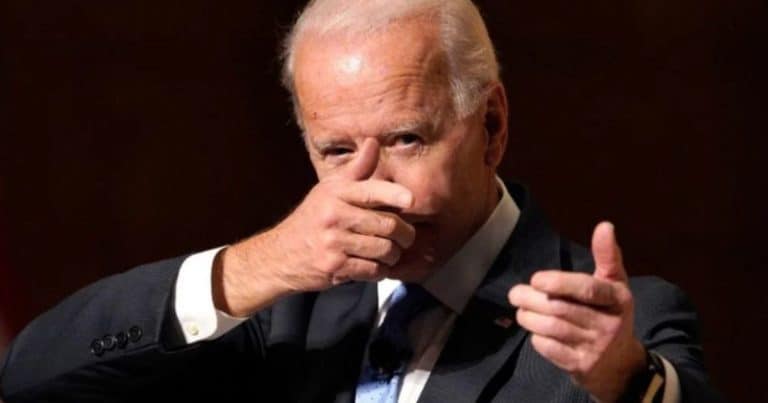 What's Happening:
Joe Biden is hardly a stellar figure, even at the best of times. It's painful to think what world leaders think of this fool, who can barely finish a sentence.
His handlers have done their best to keep him out of the spotlight. But they sent him on an international trip recently, perhaps to help appearances going into the midterms.
But his behavior during an event with Australia's PM was hardly impressive.
From New York Post:
President Biden staged a mock walk-out from a meeting with newly elected Australian Prime Minister Anthony Albanese on Tuesday when the man from Down Under recalled a trip to the US and a visit with the National Rifle Association more than three decades ago…

"You could design a theme [for the program], and mine was — I wanted to see the interaction of groups with the US government," said Albanese, 59. "So I did everything from the National Rifle Association to the Sierra Club to Planned Parenthood to the full — the full kit​ and​ caboodle across the spectrum​."

At the mention of the NRA, Biden stood up and began to walk away before pausing to tell Albanese, "You're a brave man."
As usual, Joe Biden is trying to be likable and charming. Instead, he comes off as bizarre, off-putting, and rude.
The man is rapidly losing his faculties, a fact that the DNC continues to ignore.
His handlers are doing their best to hide his deterioration before the public. But they can't control everything.
Biden jumped up and pretended to walk off stage when PM Albanese mentioned he once met with the NRA.
I suppose Biden was trying to be funny. Instead, it was odd, out-of-place, and disrespectful to this world leader.
He was trying to discuss his relationship with the United States—how he wanted to understand why Americans believe what we do.
But Biden turned it into a stunt, distracting from Albanese's comments and casting a light on Joe's own bigoted political views.
God forbid an Australian leader met with the NRA, huh Joe? It was a tasteless and pointless move, one that only underscores Biden's inability to lead.
Biden does not show respect to Americans, why would he show respect to world leaders? This is why the world is laughing at us now, make no mistake.
Key Takeaways:
Joe Biden pretended to walk out of an event with Australia's prime minister.
Biden jumped up when Albanese mentioned meeting with the NRA.
Biden's lack of leadership has deteriorated America's role in world events.
Source: New York Post