Biden Caught Restarting $7B Obama Treason – Iran Just Claimed Joe's Doing It Again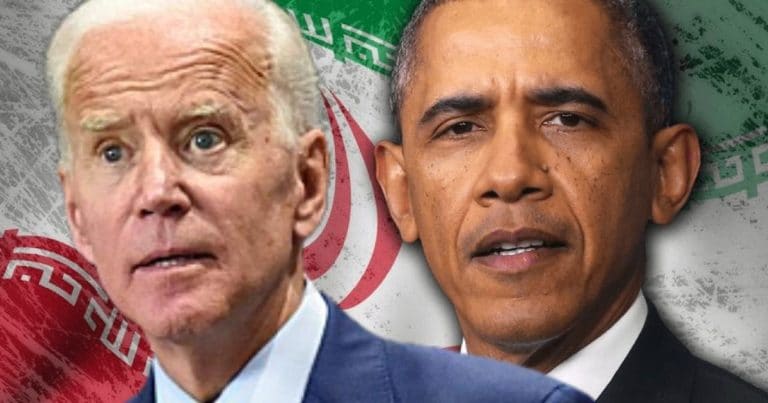 What's Happening:
Remember how shocked Americans were that Obama sent Iran—one of our worst enemies—a literal pallet of cash?
Obama tried to deny it, until pictures came out proving it was true. Obama gave the terrorist-supporting country over $2 billion in cold hard cash.
What do you think they did with all that money? Can't say for sure, but they sure do have nice uranium centrifuges, don't they?
President Trump put a stop to all that. But Biden is itching to help this enemy nation once again.
And now, it looks like he's already restarted Obama's treasonous activity. At least, that's what Iran is saying.
From Daily Wire:
Iranian state television claimed on Sunday that the Biden administration agreed to unfreeze $7 billion in Iranian oil assets and release four Iranians held in U.S. custody in exchange for the release of four Americans accused of spying.
An Iranian state TV station is saying that Biden will unfreeze $7 billion in assets for Iran and give them four of their agents.
Of course, Biden is denying this is true. But we've heard that before. Obama claimed he wasn't sending gold to Iran, until pictures proved him to be a liar.
He then made a big excuse, saying this had something to do with an old agreement made with Iran back in the 1970s.
Hmm, I think much more recent events supersede that agreement. Like Iran being taken over by radical terrorist-loving leaders.
Can we really trust Biden's claims that Iran is wrong—when he's cut from the same cloth as Obama?
Evidence suggests he's even more left than Obama was. More radical, more inconsistent, and more dishonest.
If Iran is true, that means they will be getting a massive windfall—for apparently little in return.
Iran is a terrorist-supporting regime that has vowed to wipe Israel off the map. They are known for chanting "Death to America" in their streets.
Why should we give them one red penny, when they pose such a threat to the world?
Hopefully, this one time, Biden is telling the truth. But we aren't counting on it.
Key Takeaways:
Iranian state TV claims that Biden is releasing $7 billion to the terrorist nation.
Biden's administration claims the story is not true.
Previously, Obama also denied a report of Iranian aid—only to be proven dishonest.
Source: Daily Wire