Democrats Turn On Biden And The Party – BidenLied Trends After Joe Changes Stimulus Check Stance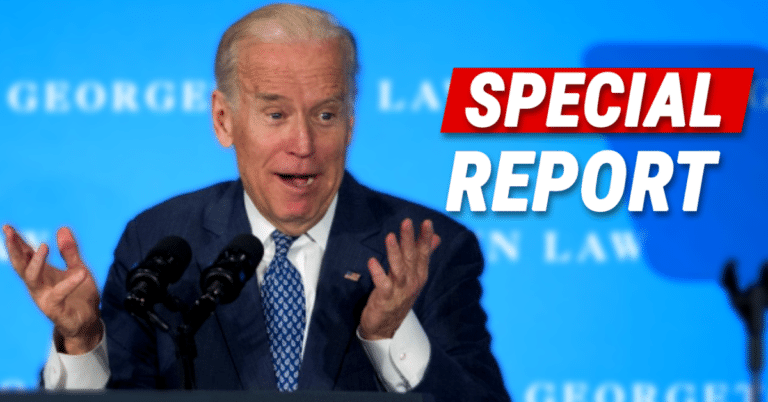 What's Happening:
If Biden thought he was going to have an easy four years, he was dreaming.
It hasn't been a full month, and already he's feeling the heat. Unions and other Democrats roasted him over his countless executive orders.
Now, voters are getting pretty outraged.
During the Georgia runoffs, Biden claimed that Democrats would give Americans $2,000 checks. Suddenly, that number dropped to $1,400.
Never renege on handouts, folks. Because the freeloaders who voted Democrat are out for blood.
From Fox News:
The Democratic Party's official Twitter account has sparked backlash Saturday after tweeting that President Biden will "build on the $600 down payment provided by Congress last year, sending an additional $1,400 to households across America, totaling direct payments to $2,000 per person."
From Western Journal:
Thus did #BidenLied begin trending on Twitter over the weekend.

It wasn't just those to the president's right who were tweeting it, though; the loudest voices came from the left.

Socialist podcast host and activist Ryan Knight got the ball rolling.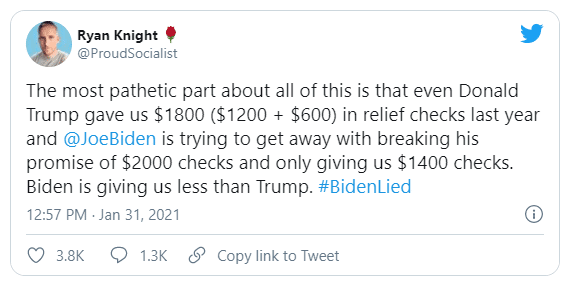 "The most pathetic part about all of this is that even Donald Trump gave us $1800 ($1200 + $600) in relief checks last year and  @JoeBiden is trying to get away with breaking his promise of $2000 checks and only giving us $1400 checks. Biden is giving us less than Trump. #BidenLied"
Joe Biden clearly stated in January that if Georgia elected their candidates, that they'd quickly get $2,000 checks "out the door."
Instead, they are talking about $1,400 checks to make up for the $600 from December (which only some Americans received).
Once the Democrats made that clear, the hate came rolling in like heat from an open furnace.
Liberals who were counting on their free money were ticked off. $1,400 of free money! How dare they! They promised $2,000!
Listen, the Democrats are responsible for the loss of many people's wages, thanks to their COVID lockdowns. But 600 more bucks in their bailout checks ain't going to bring back what was lost.
But don't tell that to spoiled, entitled, neo-socialists who think it's the government's job to powder their bottoms and change their diapers!
Biden said $2,000—and they better get $2000! The hashtag #BidenLied trended so fast, Twitter couldn't even shanghai it fast enough!
I wonder how many more Americans Biden will tick off before Valentine's Day?
Key Takeaways:
Democrats were outraged over the proposed $1,400 checks.
Joe Biden specifically promised $2,000 during the Georgia runoffs.
So many expressed their anger that #BidenLied trended on Twitter.
Source: Fox News, Western Journal