It Was Joe Biden's Plan All Along – His Advisor Dares To Claim A New Lockdown Will Get The Economy On Track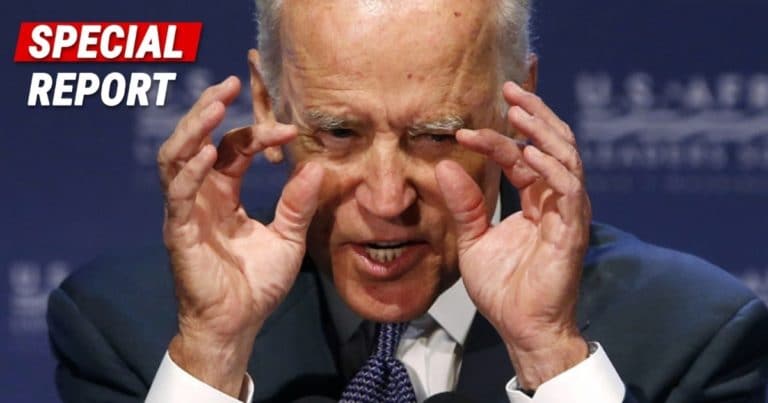 What's Happening:
Trump called out Biden time and again over his support for more lockdowns. Biden claimed he would only do what the "scientists" told him.
Like many other issues, the Democrat refused to give a clear answer. He went back and forth over whether as president he actually could mandate a lockdown.
But his COVID advisor is making it very clear now—and even spinning some interesting tales while he's at it:
Shutting down businesses and paying people for lost wages for four to six weeks could help keep the coronavirus pandemic in check and get the economy on track until a vaccine is approved and distributed, said Dr. Michael Osterholm, a coronavirus advisor to President-elect Joe Biden.
Biden's advisor dares to claim that shutting down the economy—which has already caused significant damage in our country—could actually help it get on track.
Until the vaccine arrives, of course—the one they keep questioning because Trump is President. How long have we been hearing that line from Democrats?
They always say salvation is right around the corner. Then, they yank it from us with another "just wait a few weeks."
Osterholm said in February that lockdowns weren't a longtime solution. Yet now he is saying we need to force the entire country (regardless of actual COVID figures) into a prolonged lockdown.
President Trump allowed governors to decide what was best for each state. But Biden wants to pressure states to close down schools, businesses, churches, and other institutions into a prolonged freeze.
The last lockdowns put millions out of work. How will another "help" the economy? And why would a so-called medical expert know anything about the economy in the first place?
Many think lockdowns have done more harm than good, and that millions of lives were hurt and upended this year thanks to the media's panic and governors' strict rules.
Should we expect Joe Biden to do much worse?
Maybe he's not wrong, though. Maybe a nationwide lockdown would help the economy… of other countries.
Does Biden want to do this because he's not putting America first, instead putting global interests first? Perhaps a country with a big red flag?
Fellow Americans, do you think the United States should have another lockdown?
Key Takeaways:
Joe Biden's advisor claimed a nationwide lockdown would help the economy.
The previous lockdowns cost the U.S. millions of jobs and widespread economic.
Biden has refused to explain how he would mandate a lockdown.
Source: CNBC