After President Biden Pokes At Little Girl – Video Shows Her Quickly Giving Joe The Hand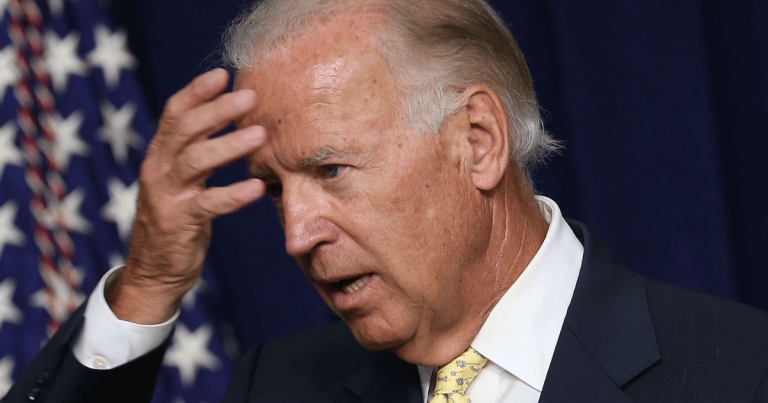 What's Happening:
Biden might be the "president" but he's still not above traumatizing little girls. Yes, we all remember how he liked to sniff the hair of girls and nestle women's shoulders. Despite all the disturbing antics, the media told us it was nothing to worry about.
But apparently, Biden's reputation got around. Because it looks like the younger generation is not interested in his advances. Recently, Biden wanted to get handsy with a young child. But she was ready for him!
From Twitter:
LOL this girl showed Joe who's boss. pic.twitter.com/VjSWqzcCbr

— Benny (@bennyjohnson) November 21, 2021
LOL this girl showed Joe who's boss.
This is priceless. Joe Biden reached in to poke a little girl at a White House event. But the child quickly gave him the hand, swatting him away like a pest. It seems this child must have heard about what Biden does to tikes like her.
Joe fancies himself America's kindly, old grandpa. But his effect on us is more like that creepy uncle we don't want to see come to Thanksgiving dinner. His touch doesn't bring excitement, but uncomfortable moments.
This girl's reaction is priceless. And I bet more than a few Americans wished they gave Biden the same kind of hand last year. Biden's touch is more than just unpleasant. He managed to take a recovering America and turn it into a laughing stock.
Unfortunately, videos like this with Joe's reputation as it is should be plastered all over the media. Instead, they ignore this in favor of defending him at every turn.
Have Joe's policies "built" us back better, or just brought Americans more pain and hardship?
Now, if only Congress acts like this little girl and gives Biden the hand.
Key Takeaways:
Joe Biden went to touch a little girl, the girl seemed to swat him away.
The video quickly became a viral moment.
It harkened back to past times Biden awkwardly interacted with children.
Source: Twitter