Joe Biden Press Conference Goes South Quickly – After Hunter Question, Joe Dares To Call Fox Reporter A 'One-Horse Pony'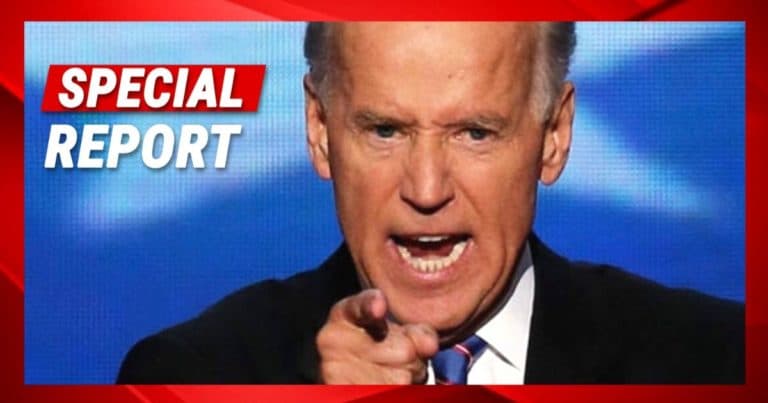 What's Happening:
Biden thought questions about his son Hunter's questionable history would have ended with the election. But it looks like the scandals are only heating up.
The media ignored what Hunter was doing, prior to Election Day. But now, even media outlets want to know what he was doing, while Biden was VP.
Joe doesn't like it when the media actually does its job. He especially doesn't like hard questions that force him to tell the truth.
And recently, he was asked about his son. And Sleepy Joe quickly turned into Angry Joe. From IJR:
As he walked away from the podium at the end of a press conference on Tuesday, Biden was asked by Fox News' Peter Doocy if he believes stories about Hunter Biden from before the election were Russian disinformation and a smear campaign.

As Doocy was asking the question, Biden chuckled, then said, "Yes, yes, yes. God love you, man. You're a one-horse pony. I tell you."
Joe Biden got flustered when a report bothered to ask him about his son's questionable behavior—and the ongoing investigations circling him.
Biden insulted the man by calling him a one-horse pony.
Uh… I'm sure Doocy's been called worse, but ouch.
Let's just ignore for the moment that Joe got the insult wrong (it's "one-trick pony" or "one-horse town") and let's focus on a disturbing trend of Joe's.
Joe's never been good in front of the media. He has a long history of saying one thing, only to be forced to admit he was wrong.
That behavior even tanked his presidential aspirations decades ago.
Whenever Biden is asked tough questions, he either ignores them or gets pretty upset. We've seen him lose his temper and lash out at reporters and even regular folks.
Even though Joe was laughing, you can sense the anger simmering under the surface. Biden expects the media to "fall in line" and not press him for the truth.
After all, the MSM is essentially the PR arm of the Democratic Party. They shouldn't, you know, call him out for irregularities or scandals surrounding his good-for-nothing son.
But something tells me he won't be able to play that game forever.
Do you think Joe Biden is capable of being the next President?
Key Takeaways:
Joe Biden insulted a reporter when he asked him about investigations against his son, Hunter.
He called the man a "one-horse pony" an obvious gaffe.
Biden has a history of lashing out against the media.
Source: IJR