Biden's New Press Secretary Could Be On Thin Ice – Picture Shows Her Wearing A Pink Hat With A Communist Symbol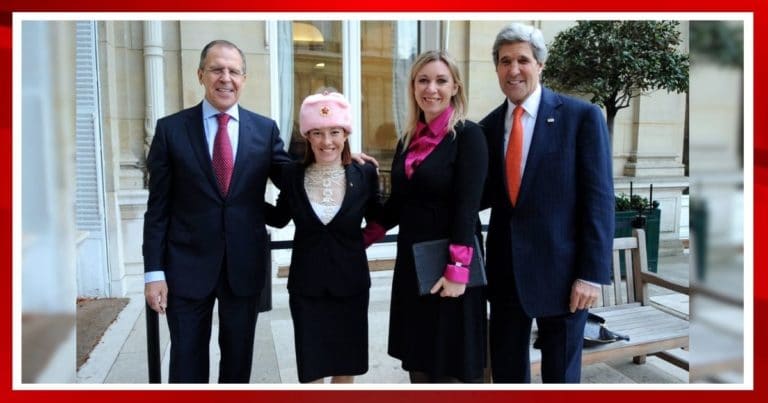 What's Happening:
Do you think Joe Biden will keep his promise and be a president for "all of America?" He's already broken his promise by saying he will try to undo much of what Trump has done.
And some of his picks are from the far-left (or are rumored to be), further alienating most moderate and conservative Americans.
But the story's getting worse. Biden's pick for press secretary should concern most Americans after a picture of her surfaced. What's so troubling? A symbol on her hat:
Jen Psaki, who was named to serve as President-elect Biden's White House press secretary, is facing fresh scrutiny over a photo that shows her wearing a Russian hat that bears the communist hammer-and-sickle logo.
Here it is up close, folks:
Uh, I don't know about you, but I wouldn't be caught dead in any clothing glorifying the Soviet Union. And don't call it fake news, because USA Today fact-checked it. And while they claim it was "out of context," they had to admit it was real:
The "fact check" explained, "The image is real, but claims that the hat was anything more a gift or that Psaki was with Russian officials in any capacity beyond her official role are MISSING CONTEXT."

Regardless, the newspaper's "fact check" was panned by critics on the right.
The media wants you not to be worried about one of Biden's admin picks wearing a Communist hat. Because, you know, the context bruh.
What does context have to do with it? If Trump's press secretary wore a hat with a an offensive, anti-American symbol, should we ignore it because of "context"?
Psaki put the thing on her head and posed for a photo. Do you put on clothes without looking at them? Shouldn't a member of the American government not wear hats with symbols from our political adversaries?
Especially when they are the color of Pepto Bismol!
This woman is offending America's great capitalist tradition and our fashion sense!
This woman will serve closely with the president, should Biden end up in office. We should be concerned if she has no trouble wearing a garment with a Communist symbol.
After all, the media would be in a frenzy if this happened in the Trump administration. They freaked out over the "okay" hand gesture. Shouldn't they be concerned over this?
I guess when you have a D at the end of your name, you can do anything? (Except look good in pink.)
Key Takeaways:
Biden's press secretary pick in hot water after wearing a Communist hat.
USA Today tried to dismiss the photo, saying it lacked context.
They were mocked for trying to present a misleading "fact check."