Biden Rocked by New Impeachment Charge – Over Half Think a Red Wave Will Lead to Joe's Impeachment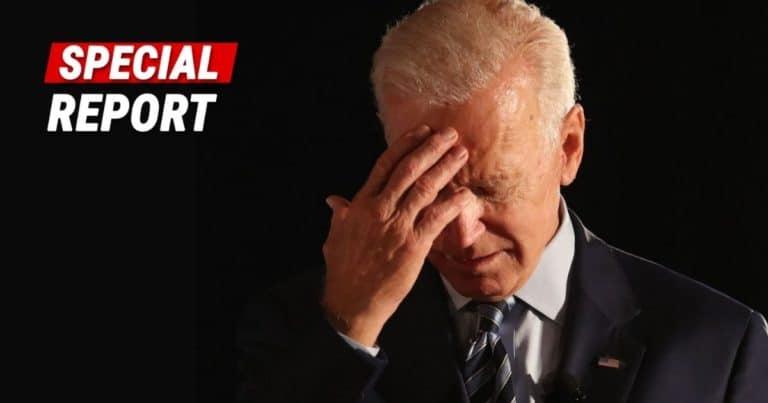 What's Happening:
Many signs are pointing to a red wave next week. It seems likely that Republicans will retake the House, perhaps even the Senate. And that's not to mention many state and local races, which are leaning Republican.
What will happen if Republicans retake Congress? It's clear Biden's agenda will freeze in its tracks. But more problems might be headed for Biden, who is unquestionably the most-hated president in recent history. And now, Americans are predicting how likely this dreaded thing will happen.
From Rasmussen Reports:
More than half of voters think a Republican victory in next week's midterms will probably mean impeachment for President Joe Biden.

The latest Rasmussen Reports national telephone and online survey finds that 54% of Likely U.S. voters believe that, if Republicans win control of Congress in this year's election, it's likely they will impeach Biden, including 22% who say it's Very Likely.
Nobody can predict the future, but in this new poll, over half of Americans think Republicans will impeach Joe Biden. A whopping 54% think it is likely, with 22% saying it is very likely. This comes as Joe Biden refuses to cooperate with Republicans, despite promising unity in 2021.
Biden has doubled down on rhetoric accusing Republicans of being "threats to democracy." Yet, from all we've seen, Democrats are the ones censoring Americans' free speech, inciting danger, and using agencies like the FBI for political gain.
There is a laundry list of accusations, scandals, and missteps Biden is responsible for that could lead to impeachment. Just the open border alone should be enough for Republicans to launch a probe. But that's not getting into Biden's connection to Hunter's many sins.
Or how Biden's administration is responsible for many crisis-inducing decisions. All of which can be grounds for charges of high crimes and misdemeanors.
We can't say for sure if Republicans will impeach Biden. But we do know that many GOP lawmakers have vowed numerous investigations. They will get to the bottom of Joe's biggest failures, from Afghanistan to mandates to inflation and more.
Biden, if he still has any of his mind left, should be very worried.
Key Takeaways:
A new poll revealed that 54% of Americans think Republicans will impeach Biden.
This comes as signs point to Republicans retaking at least the House.
Many Republican lawmakers have suggested Biden committed impeachable offenses.
Source: Rasmussen Reports