President Biden Snaps in Screaming Rant – On Video, Joe Spins Repeated Attacks at MAGA Republicans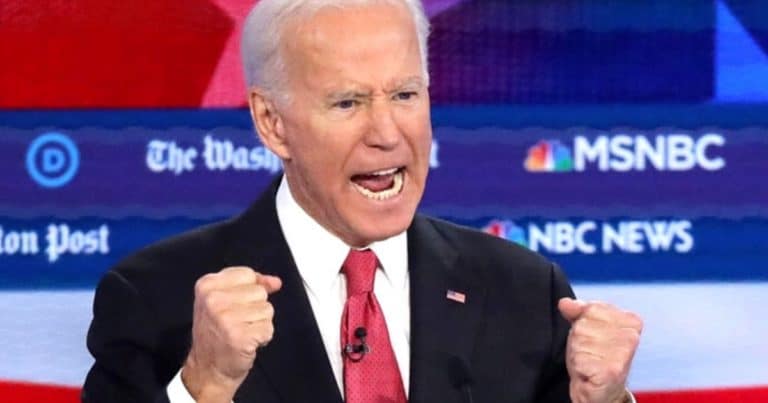 What's Happening:
It's no secret that the American economy is in trouble. Inflation is skyrocketing. The stock market is shaken. And Americans struggle to put gas in their cars.
All of this has been reflected in Biden's overall approval. As these problems persist, it only declines.
But Joe, who views himself as the victim, refuses to own up to his administration's responsibility. In a recent speech, he let loose against everyone… but himself.
From Trending Politics:
"The problem is Republicans in Congress are doing everything they can to stop my plans to bring down costs on ordinary families…"

"First, I'm doing everything in my power to blunt Putin's gas price hike. Just since he invaded Ukraine, it's gone up $1.74 a gallon — because of nothing else but that."
Then, he really lost it. He shouted as he defended his spending—which has been the chief source of our economic problems.
From YouTube:
President Joe Biden screamed "I don't wanna hear any more of these lies about reckless spending," during his remarks at the 29th AFL-CIO Quadrennial Constitutional Convention on 6/14/2022.
Wow. When you have no more legs to stand on, all you have left is shouting.
Biden ranted during his appearance at the 29th AFL-CIO convention. He claimed that Republicans were preventing him from helping Americans.
He said that Republicans blocked his massive spending measures. Then he got upset that people accused him of reckless spending.
Uh… Joe? You can't complain that Republicans prevented you from spending more money, then deny you are trying to spend more money!
Most Americans don't seem to be buying the administration's narrative that the economy is doing "great" and Biden is not to blame for all the problems.
Again, a contradiction. How can we have the "best" economy in our history, but still have problems caused by Putin and others?
The White House really needs to take a look at its messaging, because it's all over the place.
The only thing we haven't heard from Joe is taking responsibility for these problems. Joe seems to think he can blame everyone else—that he is just a victim in all of this.
But clearly, that pressure is getting to him. Biden ranted like a cranky, old man who can't change the TV channel.
He didn't look or sound like a president. And his bitterness seems to be affecting the entire administration.
Key Takeaways:
Biden continued to blame Republicans and Putin for America's economic problems.
He then ranted on stage, screaming about "reckless spending."
This comes as Biden struggles with horrible approval numbers and soaring inflation.
Source: Trending Politics, YouTube