Donald Trump Takes Biden To The Cleaners After Joe Shows Up To Vote In Person In Delaware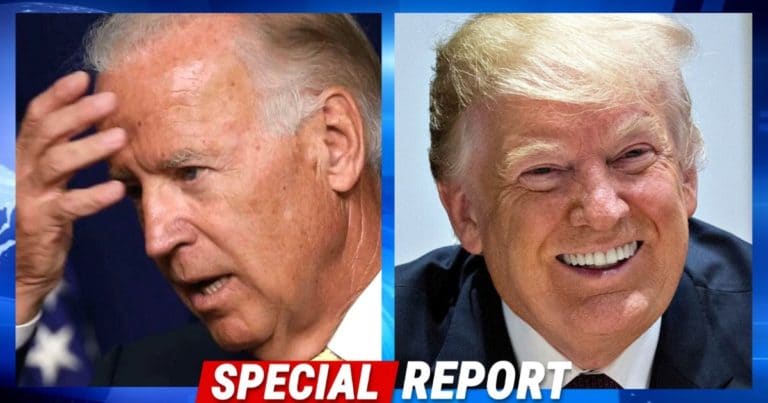 What's Happening:
Democrats—including old Joe—have been pushing hard for mail-in voting this year.
Nancy Pelosi even tried to secure billions to prop up the post office, just to force the issue.
(Even as she's failed to secure more relief funds.)
So, how important is mail-in voting to Joe? Not that much, it seems, since he just voted in person:
Joe Biden went to the polls Monday for the Delaware primary despite calls from him and other Democrats that the coronavirus pandemic demands a dramatic increase in mail-in voting.
And President Trump quickly responded, not about to let this slide:
Did you see where Joe Biden — as Weak, Tired, and Sleepy as he is, went to a Polling Place today in Delaware (of course!) to VOTE!? If Biden can do it, any American can do it!
Joe Biden appeared to contradict the left's argument for mail-in voting when he voted in person this week.
The Democratic candidate voted early, urging other Americans to do the same.
That appears to undermine the ongoing narrative on the left that COVID has made voting in-person much too dangerous.
President Trump pointed out that if Joe, a man that is in his 70's (and is "weak, tired, and sleepy") can safely vote in person, why can't anyone else?
He asserted that if Biden can do it, any American can as well.
Joe's appearance at a polling station certainly undermines the left's doom-and-gloom claims.
Many have worried that universal mail-in voting was not safe enough. Stories of lost and destroyed ballots have circulated everywhere.
In some states, thousands of ballots were rejected because they were postmarked after election day.
Trump has long argued that ballots could easily be forged or stolen. The post office is notoriously bad at delivering mail on time.
The obvious conclusion is that if millions of Americans voted by mail, many ballots would not be counted.
Democrats dismissed Trump's arguments. But even Joe felt it necessary to vote in person.
Boy, did the campaign staffer that set up that really step in it!
Do average Americans need to fear voting at a local polling station if Joe Biden can do it? I don't think so.
Too bad the Democrats don't seem to be on the same page on anything.
Will you be voting in person or by mail this year?
Key Takeaways:
Joe Biden voted early in person, undermining the left's mail-in voting push.
Trump said if Biden can vote in person, everyone else can.
Democrats have tried to push mail-in ballots, sparking concerns of fraud.
Source: Washington Examiner, Twitter