Hours After Biden Calls Trump The First Racist President – Black Leader Charlamagne Orders Joe To Shut It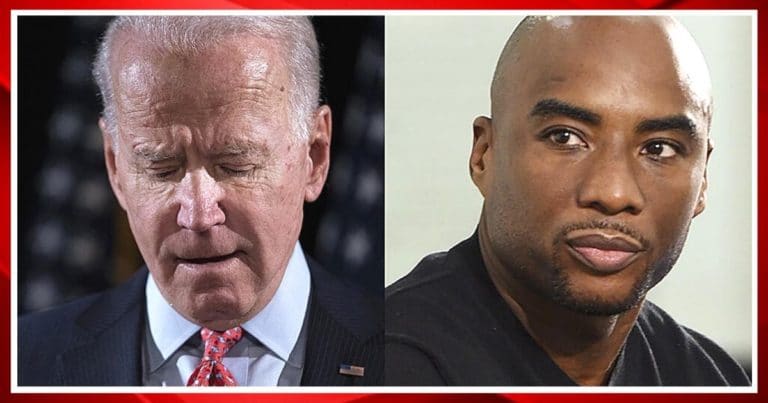 What's Happening:
Joe Biden took another step left when he made the outrageous claim that Trump is the "first" racist president.
There is little proof to back Biden's claim that Trump is a racist—which is a tired, overused line by now.
But many pointed out that twelve presidents owned slaves. And Woodrow Wilson even hosted Klan members at the White House.
(And let's not forget Democrat FDR's treatment of Japanese Americans.)
Regular Americans aren't the only ones getting sick of Biden's comments. Now, well-known radio host and liberal is calling him out:
"The Breakfast Club" radio host Charlamagne Tha God blasted former Vice President Joe Biden for calling President Trump the "first" racist president to be elected…

"I really wish Joe Biden would shut the eff up forever and continue to act like he's starring in the movie 'A Quiet Place' because as soon as he opens his mouth and makes noise, he gets us all killed, OK?" the radio host said.
It was on Charlamagne's show where Biden infamously said "you ain't black" to black Americans who support Trump.
Now, the radio host is getting upset over the frequent comments Biden is saying.
Charlamagne himself is liberal and no fan of Trump. But even he is realizing that Biden is not helping himself with his ridiculous comments.
Perhaps Democrats are finally discovering what a mistake it was to get Joe nominated. They had over 20 candidates at one point.
But, just before Super Tuesday, they conspired to give Biden a boost over Sanders by getting leading candidates to drop out.
Now they are all experiencing a major case of buyer's remorse.
Charlamagne isn't the first Democrat to beg Biden to stop talking. Others have said they want him to stay out of sight—worried about what he might do before November.
That's hardly a winning strategy for someone trying to become president.
Charlamagne knows this isn't the last time Biden will put his foot in his mouth. He is watching black voter enthusiasm for Biden to slip away.
It's unlikely Biden will take his advice.
Key Takeaways:
Radio host told Biden to "shut the eff up" after the candidate made a racist claim.
Biden said Trump was the "first racist president," citing no evidence.
Charlamagne is one of many Democrats worried about what Joe might say next.
Source: Fox News