After Biden Makes 'Trump Social Security' Claim – Donald Turns The Tables On Joe, Sends Him Spinning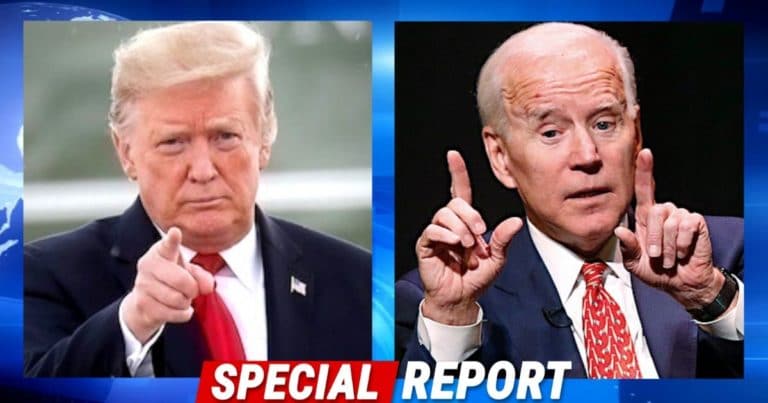 While most Americans tried to forget about the coronavirus, Democrats hosted another debate.
Finally, they whittled down their crowded field… to two septuagenarian white guys.
Talk about diversity.
Joe Biden and Bernie Sanders spent the evening pandering to leftists and border jumpers. They lied about President Trump. Meanwhile, CNN did nothing to confront them on it.
For example, Joe Biden claimed that Donald Trump wants to cut Social Security and Medicare. Really?
Is this another gaffe, or is Joe totally out of it?
But Trump himself wasn't going to let that one slide.
From Twitter: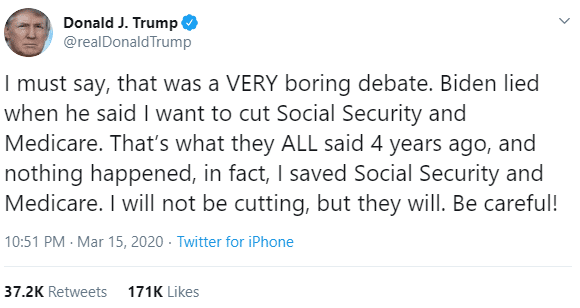 I must say, that was a VERY boring debate. Biden lied when he said I want to cut Social Security and Medicare. That's what they ALL said 4 years ago, and nothing happened, in fact, I saved Social Security and Medicare. I will not be cutting, but they will. Be careful!
President Trump slammed the debate, calling to very boring. Then, he singled out Joe Biden for saying Trump was going to cut Social Security and Medicare.
The president said Joe was lying when he said it. He went on to say that's what Democrats accused Trump of wanting to do four years ago.
But what really happened? President Trump said he saved Social Security and Medicare. He also promised he will not be cutting anything.
And he reminded America that Democrats would cut it if they had a chance.
During his first term, Donald Trump was pressed by his people to make cuts to SS and Medicare. In order to reduce government spending, they said that was the only way.
But the president had made a promise to America's senior citizens. He vowed during the 2016 Election that he would not cut those programs.
Not only has he made good on that promise, but he actually helped increase SS benefits.
What do you think Joe or Bernie will do those programs? Democrats are desperate to find more money for their social programs.
They want to give out "free" health care (and many other things) to those who do not work. Worse than that, they all promised to give health care to non-citizens.
Where do you think they'll go first to get that money?
Only with a strong free market and booming economy will the country thrive. And Trump's secured just that. But under Joe or Bernie, our economy might be in jeopardy.
SHARE if you think Joe or Bernie would be the end of Social Security and Medicare.
Source: Twitter