Biden Just Made A Lot Of People Uncomfortable – He Joked That "Indian Americans Are Taking Over The Country"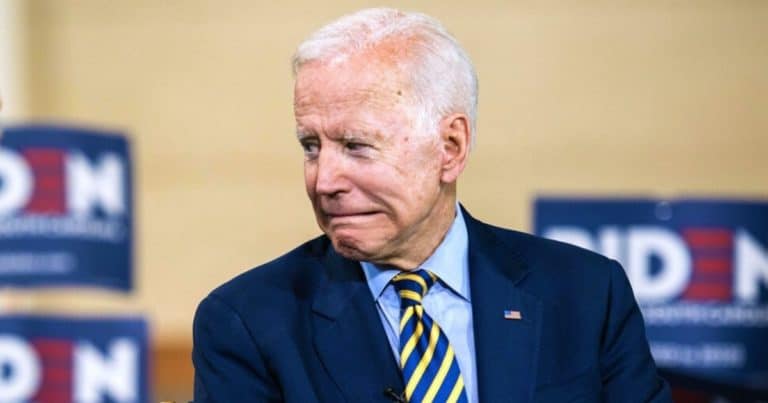 President Joe Biden hasn't always delivered the cleanest speeches. On the campaign trail, for example, his opponents often called him out for stumbling over words and mispronouncing names.
There are also times when it seems Biden has difficulty reading his speech or following instructions from organizers. Democrats dismiss all such errors as minor and trivial.
But there's no denying that POTUS just made a lot of people feel uncomfortable.
When you're in the public eye, you have to be careful of jokes, and the words you choose to use. Now, Biden might want to rethink the words he chose during a recent call with NASA.
First, it appeared as if the President once again had some trouble getting started.
"Am I supposed to speak now?" he asked a member of his staff, looking a bit confused.
NASA Jet Propulsion Laboratory director Michael Watkins kept talking as Biden glanced around, still a little unclear, adding "Now am I supposed to speak?"
But the issues didn't end there, because then Biden made a comment that was just plain awkward (via Breitbart):
Biden spoke about Indian-Americans as he talked with Dr. Swati Mohan, an Indian-American scientist who played a role in helping land a rover on Mars last week

'It's amazing. Indians of decent Americans are taking over the country,' Biden said. 'You, my vice president, my speechwriter Vinay.'
He probably meant to say "Americans of Indian descent" to start, or maybe he just meant to say many Indians are "decent Americans."
But his "taking over the country" comment certainly could've been worded better, or better yet, Joe probably shouldn't have said it at all.
However, this isn't the first time Biden has made uncomfortable statements concerning Indian-Americans.
Back in 2006, he said this:
In Delaware, the largest growth in population is Indian-Americans moving from India.

You cannot go to a 7-Eleven or a Dunkin' Donuts unless you have a slight Indian accent. I'm not joking.
One could argue that Biden wasn't being intentionally insulting in either scenario. And "taking over the world" could be interpreted as a positive statement.
But either way, he's singling out a specific nationality, something politicians always have to watch for.
If we're all supposed to be color-blind, and it doesn't matter what nationality, ethnicity, or religion someone is, then the President of the United States maybe shouldn't be making a point of it.
At least, that's how many citizens could feel about Biden's recent comments.
It really looks like Biden's administration will have to clarify Joe's wording as time goes on, because many will argue that his judgment is often questionable.
Key Takeaways:
Joe Biden made a very awkward joke during a recent call with NASA.
He said Indian-Americans are "taking over the country," which could easily be misinterpreted.
Back in 2006, Biden made another questionable comment about Indian-Americans.
Source: Breitbart