After Biden Shuts Down Border Wall Construction – Arizona Sheriff Accuses Joe Of Creating "Roads For The Cartels"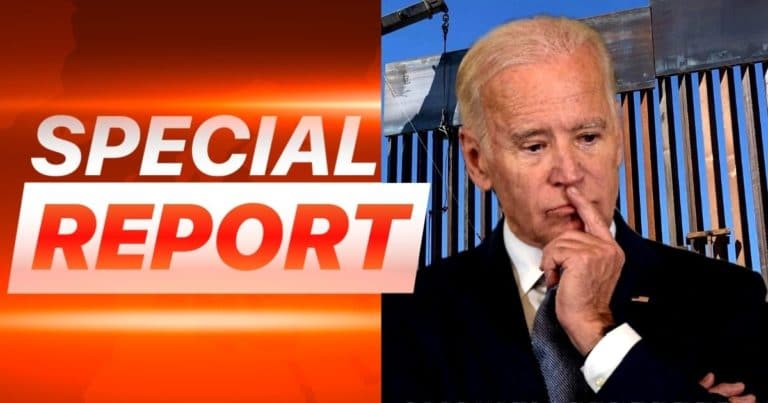 What's Happening:
It's no secret that Joe Biden's main strategy in the White House is to just reverse everything Trump did.
That's especially true in regards to immigration and the border. Soon after the Inauguration, Biden canceled the border wall project. He also tried to freeze upcoming deportations.
He also ended Trump's "remain in Mexico" policy and promised to drastically increase the number of migrants welcomed into the country.
And it doesn't seem Biden's early decisions have done anything to improve the situation. One Arizona sheriff explains what they are seeing on the border.
And it ain't good.
From Fox News:
"We just built roads for the cartels," Cochise County Sheriff Mark Dannels said, according to the Washington Times.

Dannels explained that by halting work on the border wall championed by former President Donald Trump, the Biden administration has left intact the high-speed roads that were built to help Border Patrol agents manage the region…

The result: Smugglers are able to use the new roads to operate more deeply inside the U.S., Dannels told the Times.
Biden's move was almost orchestrated to encourage more smuggling by drug cartels.
You see, Trump's border wall system was very sophisticated. It included two tall fencing structures, with roads built in between them.
When someone tried to scale the outer wall, Border Patrol used those roads to quickly reach and apprehend them.
But with the construction halted by Biden, it creates a dangerous situation. Roads are made faster than tall walls. And the border roads were finished before the fencing could be erected.
That means there are parts along the border with new, high-speed roads, but no secure fencing.
Sheriff Dannels explains that will make it much easier for cartels to move in and out of the country.
Biden effectively gave criminals a revolving door to come in and out without hindrance.
Did he do that on purpose? Does Biden want dangerous smugglers coming in and out of the country with ease?
Did he bother to consult the progress of the project—and the fallout of halting it—before he did it?
I think you know the answer to that. Biden's knee-jerk reaction to Trump's border wall has put many at risk.
Key Takeaways:
An Arizona sheriff revealed Joe Biden's border wall decision created "roads for the cartels."
Biden stopped the building of the fencing, but the roads are already done.
Cartels are using these roads to easily smuggle drugs into the country.
Source: Fox News