Biden's Latest Approval Ratings Are In – And They've Taken a Nosedive Along with the Banks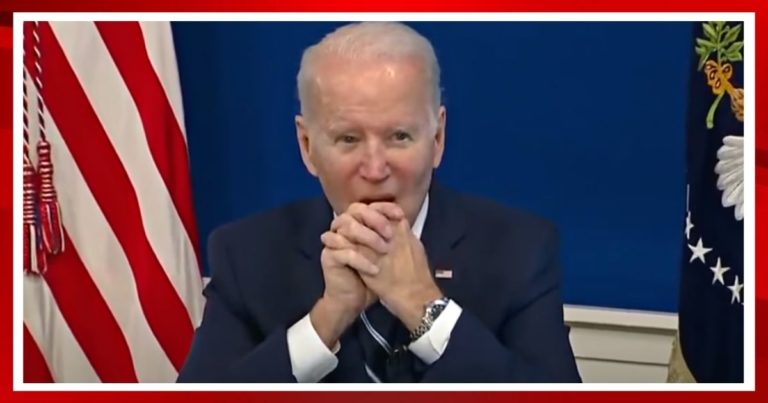 Throughout his tenure in Washington, President Joe Biden has flirted with record low approval ratings. At one point, some polls showed him dipping down into the low 30s.
During the first part of 2023, Biden enjoyed a resurgence thanks in part to lessening inflation. Democrats crowed that Biden had turned a corner and America was taking notice.
However, that upswing didn't last long — and suddenly, the President is sinking fast again.
The Associated Press-NORC Center for Public Affairs Research just released the results of their latest poll, and it shows a significant drop-off in the past month.
Biden had managed climb above 40 percent in January (coming in at 41%) and then hit a surprising high of 45 percent in February. But obviously, something has changed significantly in recent weeks.
That's because Biden has fallen back to 38 percent approval, which is the lowest we've seen since last July when it dropped to 36 percent.
As Breitbart added:
The polling further sets out doubts surround the president's handling of the national economy and his ability to project authority as he charts the nation's economic course in an increasingly troubled world marked by inflation and bank failures.
The President continuously rejects any claims that he's responsible for inflation or other economic woes, saying at one point that it was "Simply. Not. True."
Other interesting aspects of the survey: only 63% of Democrats approve of Biden's handling of the economy, while 76% approve of how he's handling his job as President. One would think that Democrat voters would be more positive.
On top of that, younger Democrats are dragging him down:
Democrats under the age of 45 feel less positive about Biden, causing a drag on his approval ratings.

Just 54% approve of the president's economic leadership, compared to 72% of Democrats older than 45.

Similarly, just 66% of Democrats under 45 approve of Biden overall, compared to 85% of older Democrats.
As it turns out, it's the older leftists that just keep doubling down on the Biden administration, while younger liberal voters aren't anywhere near as supportive.
With only 54% of Democrats under 45 approving of the President's economic leadership, that could be a red flag for the Blue party — it might show that younger voters just aren't buying the administration's claims.
The question now is, how far will Biden fall in the ratings? Will he tumble back into the low 30s and potentially set more records?
Key Takeaways:
The latest survey shows President Joe Biden's approval has fallen back to 38%.
That's a significant drop from the 45% he registered in February, and close to the low of 36% he had in July 2022.
The results also showed that younger Democrats are far less positive about the administration, when compared to Democrats over 45.
Source: Breitbart