Biden's "Dark Money" Allies Might Be In Trouble – Conservative Groups Launch $2M To Investigate Joe's Connections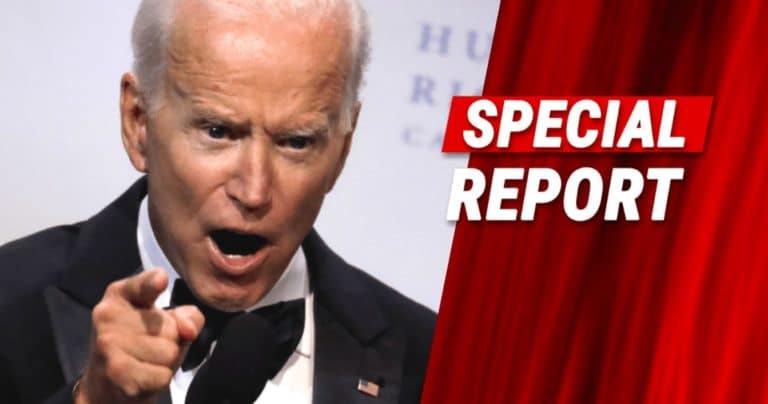 During Joe Biden's presidential bid, he received millions in donations. This is nothing new, as every presidential candidate requires funding for their nationwide campaign.
However, many Republican lawmakers questioned Biden's sources. They pointed toward "dark money" groups that funneled boatloads of money to Biden's cause, which did result in victory.
But now, that money is under heavy scrutiny.
Several conservative groups have pledged to investigate certain mysterious sources for Biden's campaign. Ironically, even Democrats have called out the use of "dark money" in campaign runs in the past.
It seems then-candidate Biden wasn't averse to taking that money, though.
And the Americans for Public Trust (among other groups) demands answers, as they're going to spend $2 million on a media campaign to reveal the progressive organizations that funded Biden's run.
Via The Daily Caller:
A coalition of conservative groups launched a $2 million media campaign targeting progressive 'dark money' groups that funded President Joe Biden's campaign.
The coalition is led by the Judicial Crisis Network, Heritage Action for America, and Americans for Public Trust.
They also plan to go after Biden's nominee for the head of the Health Department, Xavier Bacerra, as well as Biden's choice for attorney general, Vanita Gupta.
Said Americans for Public trust executive director Caitlin Sutherland:
Dark money groups led by Arabella Advisors, among others, now want payback for helping Joe Biden get elected.

Mr. Biden promised unity, but his nominees to high positions and his policy prescriptions reveal an extreme liberal agenda, on which these dark money groups are trying to cash in.
According to a Capital Research Center report, Arabella Advisors is responsible for a massive $600 million liberal funding push.
Arabella spokesperson Steve Sampson claims the dark money accusations are "grossly mischaracterized," and claims that some of the conservative groups actually operate on dark money themselves.
But that won't stop  the investigation.
It's also important to note that those who donated to Biden are likely expecting some sort of return on their investment. This is another issue the Biden administration might have to face.
Dark money is common in the world of politics.
Even so, if it plays a heavy role in the election of President, and that President's nominees, people are going to ask questions. And that's when we start seeing investigations like these.
Key Takeaways:
A coalition of conservative groups have launched a $2M investigation into Joe Biden's "dark money" allies.
They're focusing on progressive groups that funneled big money to Biden's presidential campaign.
These donations allegedly resulted in nominations from Biden, which is another cause for concern.
Source: The Daily Caller