Biden's Press Secretary Literally Freezes Up – Asked About Formula Shortage, For 20 Seconds She Flips Through Her Binder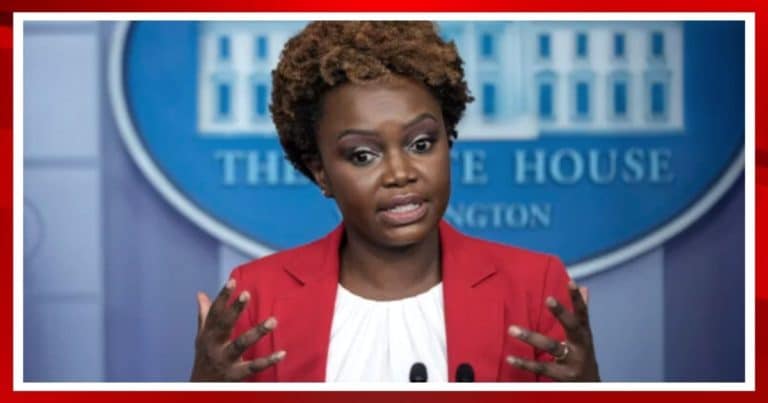 What's Happening:
One of the worst failures of the Biden administration has been the baby formula shortage. Infants have been rushed to ERs, because parents can't feed them.
That is unacceptable in the United States. Biden claimed he was going to muster resources. We heard about pallets of formula being flown in from Australia and Europe.
So, where is the update? Why are shelves still empty? Jean-Pierre was asked this.
Here was her response.
From Fox News:
President Joe Biden's Press Secretary Karine Jean-Pierre said in regard to President Joe Biden's lack of progress addressing the baby formula shortage and said, "uhhh…," during the White House press briefing on 6/13/2022.
Pathetic. When asked about the baby formula shortage, the White House press secretary literally flipped through her binder for 20 seconds.
And, after all that, she had no update!
Shouldn't she be prepared to discuss a topic as critical as that? How could she not have known someone would ask about it—since it affects millions of Americans?
She ended up saying there was progress, but gave zero information.
Not a good look, Jean-Pierre. If the administration did have any meaningful updates, would the press secretary have them on hand?
Biden would be eager to boast that he actually did something to help a problem. Instead, she flipped through her binder to come up with nothing.
Come on, Karine. Did you really think you had the information in there?
All we can conclude from this is that the administration has no updates. There has been no meaningful progress since last month.
Has the Abbott plant reopened? Is there word when stores will be restocked? What about those supplies from Europe?
But… nothing.
Key Takeaways:
WH press secretary Jean-Pierre had no answer to a question about the baby formula shortage.
She flipped through her binder for 20 seconds, claiming there was an update.
But she proceeded to give no new information, despite the problem affecting millions.
Source: YouTube