Bill And Hillary Clinton Suffer Major Loss – Their Clinton Foundation Donations Just Dropped Through The Floor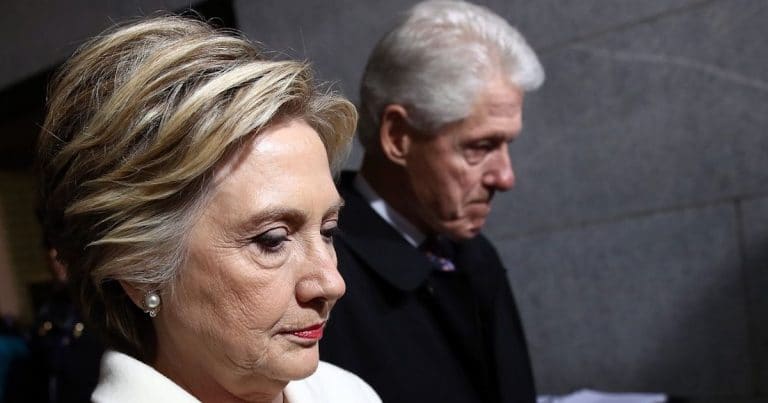 What's Happening:
Remember the Clintons? Yeah, I know, you'd rather forget them. Despite losing in the historic 2016 election, Hillary and her husband are still around. They'd like nothing more than to continue to be a thorn in America's side. Many Democrats still look to them for direction and guidance. And the couple continues to curry favor with powers around the world.
But they might not be as attractive a couple as they used to be. Back when Clinton was Obama's Secretary of State—and when she was running for president—people all over the globe donated to her "Foundation." Times have changed, however, and it seems few are giving to the Clintons' front org.
From Breitbart:
Donations to the Clinton Foundation hit $16.3 million last year, the lowest amount in at least a decade, down close to 75 percent from its 2016 peak of $62.9 million…

Donations to the Clinton Foundation peaked in 2016 when Hillary Clinton was secretary of state and ran for U.S. president. The Clinton Foundation took in $62.9 million in donations that year.

As the Clintons lose their political relevance, so too do they lose donations to their foundation.
Donations to the Clinton Foundation are dropping, with 2021 being the lowest year in a decade. The organization raked in $16 million this year a 75% drop from its high point in 2016. It seems like this group, run by a former president and his wife, is no longer an attractive prospect for the world's donors.
You have to wonder just what this organization was doing with all that money in the first place. The Foundation claimed it pursued "diversity, equity, and inclusion." Okay, how? How did that money do anything to forward those goals (aside from giving Bill a chance to travel the globe and speak)?
At the height of its power, the group was taking in large sums of cash. That just happened to be the same time Hillary Clinton was Secretary of State. Some accused her of using the group in a "pay-for-play" scheme. People and foreign powers would donate to her Foundation, then end up getting exclusive access to her.
That seemed to continue during her presidential campaign. Perhaps donors were hoping that by giving to the Foundation, they would receive special access to the future president?
But the Clintons are no longer in any official position in our government. So maybe donors no longer want their attention? It doesn't seem like they have any close allies in government also, who might attract a few donations.
Oh, well. It was a nice run while it lasted, huh Bubba?
Key Takeaways:
Donations to the Clinton Foundation dropped in 2021.
The group has seen donations decline steadily since 2016.
The Foundation saw its peak donations while Hillary was SoS and running for president.
Source: Breitbart