Billionaire Makes Bannon Pay Dearly For Attacking Trump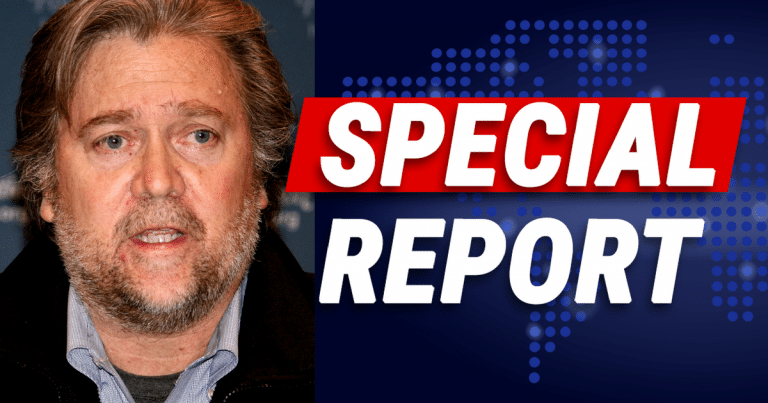 2018 is off to a rocking start! Already a few days in and the Internet is fuming with rumor, speculation, and drama. The mainstream media wouldn't have it any other way. That has never been more clear in the way they've jumped on the Trump-Bannon controversy.
A recent book, written by a liberal journalist, seems to suggest former Trump advisor Steve Bannon is attacking the President. Quotes—taken largely out of context—make it appear that the once-devoted ally has turned again Trump and his son.
The Internet exploded over the news, despite it being a nothingburger of a story. But the rampant speculation and controversy may have cost Bannon more than the respect of conservatives.
From The Hill:
Former White House chief strategist Stephen Bannon has reportedly lost the support of billionaire backer Rebekah Mercer after he suggested he might run for president himself.
A person close to Mercer told The Washington Post that she no longer supports Bannon. According to the report, Mercer was frustrated with Bannon's strategy in the Alabama Senate special election and pulled her funding after he told other major conservative donors that Mercer would back Bannon in his own presidential bid…
Rumors of a possible Bannon run in 2020 are reportedly mentioned in Michael Wolff's new book "Fire and Fury: Inside the Trump White House."…
Bannon made headlines after he was quoted in the book criticizing Trump's eldest son for a meeting in Trump Tower with a Russian lawyer who promised "dirt" on Democratic presidential nominee Hillary Clinton's campaign.
"Even if you thought that this was not treasonous, or unpatriotic, or bad shit, and I happen to think it's all of that, you should have called the FBI immediately," Bannon said, according to the book.
President Trump responded to Bannon's remarks in a statement on Wednesday, accusing his former adviser of losing his mind.
Late Wednesday, Bannon reaffirmed his support of the President, calling Trump a "great man." He went on to defend the President's work. He said Trump is fighting to drain the swamp and put Americans first. But did you read about that? Of course not. The mainstream media had their mostly fake narrative and was running with it.
This is why we fight the liberal media so hard. They play dirty. Nothing stops them from taking quotes out of context. Anything to damage Trump and his supporters.
The latest drama might have cost Bannon a major donor. Mercer's support could have meant big things for conservatives in the future. Breitbart—and other conservative outlets—might not be able to compete with the liberal news.
The liberal media will not stop until Trump is taken out of office. They want to enslave the American people to terrible, Socialist politics. They will do anything to make that happen. Including slandering the few people who stand up for our rights. Will you let that happen?
I hope not.
Source: The Hill