Black Pastor Blindsides Black Lives Matter – Calls Them The Worst Thing You Could Think Of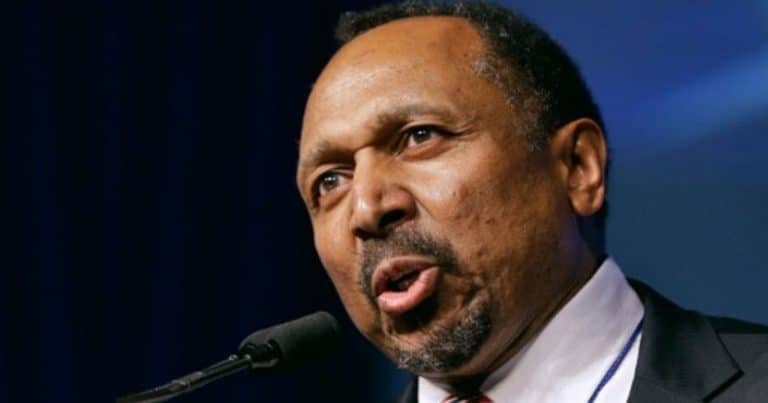 What's Happening:
Oh, boy. Democrats are going to be reeling over this one.
A black pastor has been watching what's been going on in this country over the last years.
It seems like he's not at all happy with the way things are turning out. But not in the way Democrats expected him to be.
Because this black Christian leader is calling out the left's favorite new tool: Black Lives Matter. And he's condemning their ideology.
From Newsweek:
"COVID is a medical problem and a disease problem that is going to run its course," [Pastor E.W.] Jackson said. "I think Black Lives Matter could so infect the culture of our country, so divide us racially that it could take a generation to undo the damage they are doing."
Here he is explaining the comparison more fully:
Right-wing pastor E.W. Jackson declares that "Black Lives Matter is worse than COVID" and says that anyone who claims to be a Marxist or communist should be considered a threat to national security and investigated. pic.twitter.com/ElL8L4x1Sg

— Right Wing Watch (@RightWingWatch) April 26, 2021
Black pastor E.W. Jackson criticized Black Lives Matter, comparing the radical group to COVID-19.
Bucking the demands from the left that all black Americans think alike, the man said that BLM could have worse effects on the country than the virus.
He believes that the ideas spread by this radical group—often considered a hate group by people on the right—will continue to poison and divide our country. He even believes it could take a generation to "undo the damage" this group is causing.
When you look at BLM's legacy, it's hard to argue with Pastor Jackson. The group claims to be fighting for black lives, but they leave a path of destruction wherever it goes.
Black Lives Matter is best known for staging violent protests that often devolve into riots. Their "supporters" loot stories, burn down homes, and spread violence across major cities.
They are quick to revolt whenever a police officer encounters a black person (often, the cop is forced to intervene to protect themselves).
But when a black person dies at the hands of criminals (even black criminals)? BLM is silent.
On top of that, Black Lives Matter spreads far-left, "woke" propaganda about white Americans and other groups. They seem to be trying to poison the minds of young black Americans, leading them to believe all white people are racist monsters.
COVID might be a deadly virus that has taken lives worldwide. But it has not turned an entire group of Americans against law and order, police officers, and their own neighbors.
So, maybe Pastor Jackson is on to something?
Key Takeaways:
Black pastor, E.W. Jackson, slammed Black Lives Matter, calling it worse than COVID.
He accused the group of spreading division in the country that could take years to undo.
BLM is best known for violent riots that have destroyed numerous U.S. cities.
Source: Newsweek