After Parents Pressure NYC Mayor de Blasio – He Reverses His Major Lockdown Policy And Reopens City Schools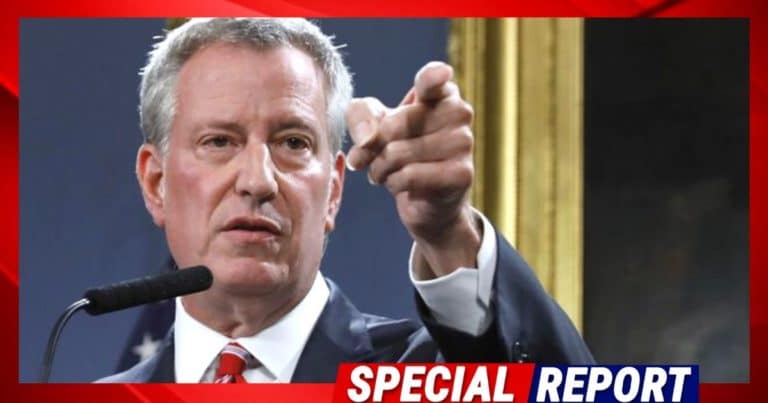 What's Happening:
We've learned much about COVID and the pandemic since March. One thing is pretty clear: Americans don't want lockdowns.
An argument can be made they cause more harm than good. But defying basic common sense, Democrat leaders push for even more lockdowns today.
Michigan's Whitmer ignored court orders to push lockdowns. She faces an impeachment resolution.
Mayor of New York Bill de Blasio ignored warnings about the dangers of closing schools. Now, he's taking a lot of heat from parents outraged that their children's futures are in jeopardy.
Looks like the Democrat is finally waking up to reality:
New York City Mayor Bill de Blasio said Sunday that the city's public schools will reopen on Dec. 7 for 3-K, pre-K and kindergarten through fifth grade amid the coronavirus pandemic.

The announcement marks a major policy reversal for the nation's largest school system, less than two weeks after de Blasio, a Democrat, announced that schools were shutting down because of a rising number of COVID-19 cases in the city.
Despite the fact that children face very little threat from the disease, many Democrat-run states keep schools locked down. That presents major problems for parents who need to go to work. It hits businesses, particularly small businesses, hard.
(I wonder how many teachers keep collecting paychecks, despite doing "classes" on Zoom?)
New York's sorry excuse for a mayor wanted to push another school lockout, ignoring all the problems with denying students an education.
But after pressure from parents, he was forced to reverse course.
Hey, you can only ignore Americans for so long before even Democrat voters fight back.
The fact remains that New Yorkers are better off with their corrupt, broken school system staying shut down (as a former New York public school student, I know what I'm talking about).
Getting kids out of government-run schools and into charter or homeschooling just might be the best thing for the future of our country.
However, parents should have that choice, not politicians. Many families struggle to make ends meet while making sure their kids get a good education.
For de Blasio to deprive working parents the option of public school goes against their freedoms. And it appears he only reverse his decision out of fear of political blowback.
Key Takeaways:
New York mayor Bill de Blasio shut down schools once again.
After parents fired back, he was forced to reopen them.
Democrats are using the pandemic to expand their iron grip over Americans.
Source: Fox News