BLM Rioter Just Got Served With Justice – He's Getting A Massive Punishment For His Fiery Destruction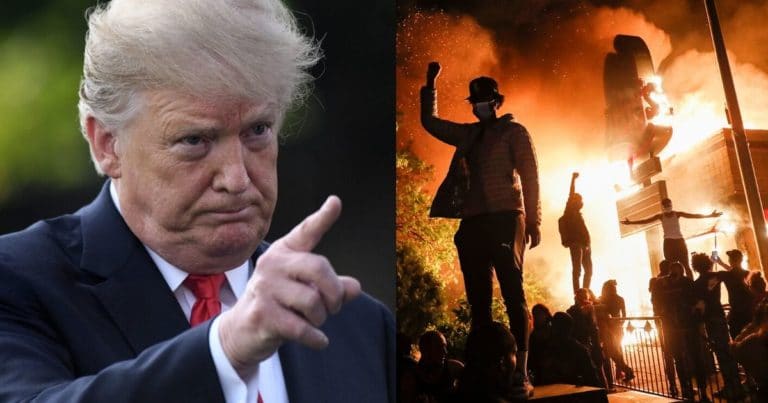 What's Happening:
Some Americans might be getting worried that justice is no longer served in the United States.
In recent years, the cause of justice has been tainted by Democrat race-baiting. Democrats have even muddied the waters by releasing criminals or removing bail.
They condemned the Capitol riot, calling it terrorism. But over the last year, BLM has burned down cities.
To this day, people fear what the group will do next. Democrats call it all peaceful protests, and ignore the damage.
But all is not lost. At least one man who helped burn down a Minneapolis police station is getting what he deserves.
From Western Journal:
Dylan Shakespeare Robinson will spend four years behind bars and pay $12 million in restitution for his role in burning down a police station…

According to the federal complaint, Robinson allegedly helped rip down a perimeter fence and lit the Molotov cocktail that another person threw at the building, setting it ablaze.
A man who helped burn down parts of Minneapolis during the May 2020 riots will be facing heavy punishment for his crimes.
The young man tore down a perimeter fence around a police station and lit the explosive that started the blaze.
Donald Trump must be thrilled to see someone who caused such chaos during his presidency get some justice for his actions against our country.
I wonder if the man is proud of what he did. Sure, last year, the media and parts of our government were applauding criminals like him for destroying this country.
He might have considered what he was doing an "act of justice," despite the danger he put many people in.
But today, where are all those people who called him a hero? Where are all the Democrats who bailed out rioters so they could continue their spree?
None of them are able or willing to get this guy out of his punishment. He will face four years in jail and have to pay $12 million in restitution.
His lawyer is already trying to get him out of paying that sum, but don't be fooled. The government will be hounding him for it for years to come.
It might sound like a heavy penalty, but keep in mind, this man's actions could have cost lives.
I wonder if the rest of these "protesters" will learn a lesson?
Key Takeaways:
A man who helped burn down a Minneapolis police station will face 4 years in prison.
He will be forced to pay $12 million in restitution for his actions in May 2020.
This "activist" was one of many who rioted, looted, and burned cities last year.
Source: Western Journal