After Bloomberg Calls Out 3-House Socialist Sanders – Bernie Loses It On Live TV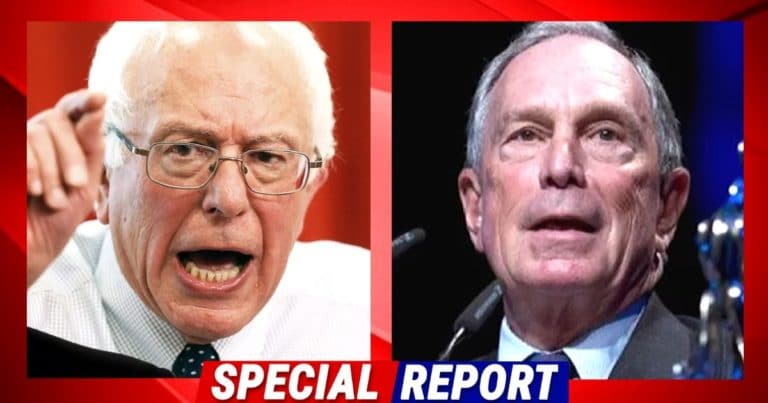 The sparks were flying during last night's Democratic debate. You'd probably have had more enjoyment watching paint dry, though.
But it was good to see these liberals bickering and yell at each other. It's a far cry from the Republican Party, who is united behind Donald Trump.
All eyes were on Bernie Sanders (assumed frontrunner) and Michael Bloomberg (the only viable moderate).
Sanders attacked Bloomberg for being a billionaire, harping on his old mantra that they "shouldn't exist."
While socialist Sanders was attacking the man for his wealth, Bloomberg fired back big time. He pointed out that Sanders, the best-known socialist in America is a millionaire with three houses.
Wow. Watch what happened next.
From Daily Wire:
Aww, snap. Bloomberg's best moment calling out socialist Bernie's three houses. pic.twitter.com/ncKxkQqSUg

— Scott Whitlock (@ScottJW) February 20, 2020
"What a wonderful country we have," Bloomberg said. "The best known socialist happens to be a millionaire with three houses. What'd I miss here?"

"You'll miss that I work in Washington," Sanders responded.

"That's the first problem," Bloomberg fired back.
It's kind of hard to make sense of everything that happened since these Democrats shout over each other like spoiled children.
But Bloomberg finally fought back against his Democratic rivals by pointing out the perceived hypocrisy of Sanders' platform.
Bloomberg called his "socialist" policies what they really are: communism. He went on to say essentially criticize Sanders' "strict" socialist views by pointing out the man was a millionaire who owned three houses.
Boy, did Bernie lose it after that. The man stammered and stutters. The look on his face was like, "Hey! You're not supposed to point that out to the public!"
It looks like Bernie's most devoted supporters are full-blown socialists, or even communists. They have bought his rhetoric, but might not know how rich Bernie is.
That's the ugly truth about socialism/communism. These rich elitists promise to give the wealth away to the workers. But they always seem to hold onto it for themselves.
That's true for every last person on that stage. They say they want socialism, but really, they want all the money for themselves.
If Bernie hates the rich so much, why is he so rich? Shouldn't he sell a few of those homes and give his money to the poor?
Don't hold your breath waiting for that.
SHARE if you think Trump's got all their numbers!
Source: Daily Wire