Bloomberg Says He Wants To Kick Trump Out – But Two Years Ago, He Told America To Support Donald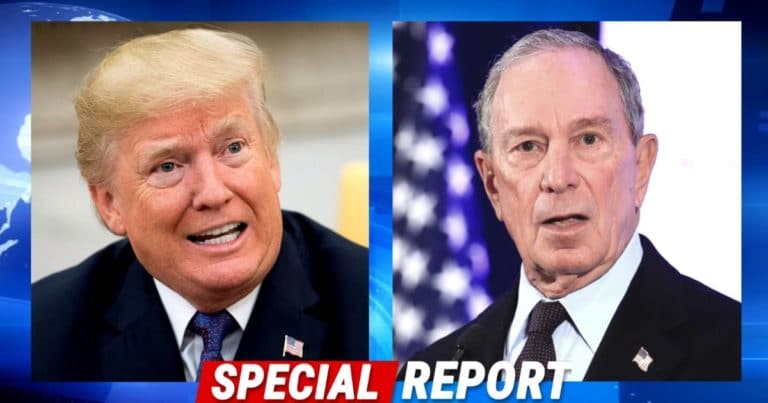 Mike Bloomberg is a new Democrat competitor for President Donald Trump.
The two have traded barbs in recent weeks, and it's obvious there's no love lost between these two politicians.
And you might think this was always true. …but no.
We've seen a lot of flip-flopping in political circles in recent years. Those who agreed with Trump in the past suddenly don't like him, for some reason.
Similarly, we see the same phenomenon here:
Not very long ago, Bloomberg publicly asked America to support Donald Trump!
Via The Daily Wire!
Former New York City Mayor Mike Bloomberg declared that Americans need to 'get behind' President Donald Trump because 'the public has spoken' on ABC's 'The View' in 2017.
Wow!
That doesn't sound like someone who dislikes Donald Trump, does it?
Furthermore, Bloomberg added during that interview that we needed to give Trump "a chance to run the country."
He urged everyone to accept the results of the 2016 presidential election. Like it or not, Donald was elected President of the United States.
And as Bloomberg said:
You have to make it work. We have an election — whoever wins, you got to get behind.

He's our president, and we need this country to be run well.
Bloomberg did confirm that he didn't vote for Trump, of course. But his other statements seemed lucid and well thought-out.
Heck, they were even downright patriotic, wouldn't you say?
So, what changed?
Why is Bloomberg now saying that citizens should be moving away from Trump? Why is he saying that Trump "divided us with racist appeals and hateful rhetoric?"
Maybe it's because he now has to toe the Democrat line. Consequently, if he wants to win the nomination, he has to adopt these leftist talking points.
Well, that sort of flip-flopping doesn't sit well with me.
As a result, I'm not sure I can believe Bloomberg right now … if he changed his tune to suit the liberals, what else will he change?
Do you think Mike Bloomberg is a bit of a hypocrite? SHARE if you do!
Source: The Daily Wire