Democrats Sent Spinning by Blue State Poll – Gretchen Whitmer's Governor Race Quietly Became a Toss-Up in Michigan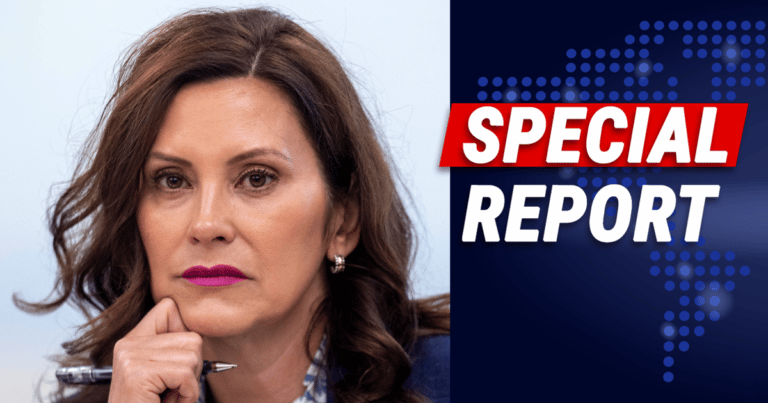 What's Happening:
After 2020, Democrats assumed Michigan was all buttoned up. Joe Biden "won" the states (without a single concern ever raised) and his ally Gretchen Whitmer had all but secured re-election.
Polling just a few months ago showed Whitmer beating her GOP rival by a large margin. These polls ignored Whitmer's infamous handling of the pandemic and other abuses of her power. More recently, she stoked controversy after a viral photo revealed her posing with some questionable folks.
And now, the unthinkable has happened in this "safe" blue state.
From American Greatness:
Michigan Gov. Gretchen Whitmer (D) is tied with Republican challenger Tudor Dixon (44 percent to 44 percent), a new Insider Advantage poll shows…

Whitmer's lead over the Trump-backed first-time candidate has a RealClearPolitics average of +10.3, but her lead has been softening in recent days.

According to Insider Advantage, Joe Biden's approval rating has cratered to 37 percent since last month when he enjoyed 45 percent approval.
It seems Whitmer–who was once considered a 2024 hopeful–is being dragged down by her association with Joe Biden.
She was seen literally holding hands with this frail, DNC puppet during an event. Bad choice, Gretchen.
As the economy continues to tumble, Joe's approval within the state is cratering. He had 45% approval among Michigan voters just a month ago. That was well above the national average.
But his approval has dropped sharply since then, down to 37%. That is consistent with the reversal in gas prices, which started to rise as we entered the fall.
It appears Michigan voters are quickly growing discontented with Biden and his buddy Whitmer.
An important note to point out is that Tudor Dixon, the Republican candidate, enjoys a Trump endorsement. She is one of a few GOP candidates with strong support from the 45th president.
You'd think her association with Trump would be detrimental to Dixon if what the left says about Michigan is true.
But keep in mind Trump won the state in 2016–a major shock to the ruling elite. And it doesn't seem that his many supporters suddenly evaporated if his endorsement is helping Dixon.
This is one of several previously "Democrat likely" governor races that are now toss-ups. Races in Oregon, New York, and Illinois–all very blue regions–are also "toss-up" according to polling firms.
Democrats are losing their grip–and they are panicking.
Key Takeaways:
The race for Michigan governor is now in "toss-up" territory.
Whitmer previously was leading by a large margin.
Her decline mirrors Joe Biden's drop in approval, as the economy worsened.
Source: American Greatness