Disgraced John Bolton Drops 'Impeachment' Book – But Trump Claims He Is Leaking Classified Information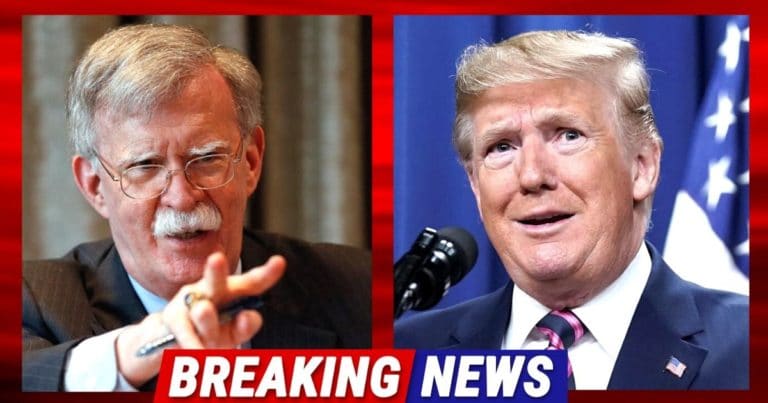 John Bolton used to be considered a Republican superstar. But, like so many other D.C. swamp dwellers, has become a liberal ally in attacking the president.
The man was fired for pushing a war with Iran. Then, he tried to throw Trump under the bus with claims about impeachment.
Now, he claims to reveal major secrets in his latest book. And despite White House protests, the book is being published anyway.
From Mediaite:
John Bolton, the former national security adviser who left his post in 2019, claims to have documented impeachable offenses across the "full range" of President Donald Trump's foreign policy…

The White House has reportedly tried to pull out all the stops to keep Bolton's book from being released — claiming that Bolton is divulging classified information. But Simon & Schuster says the book will be out on June 23 nonetheless.
Bolton claims his new book will document "impeachable offenses" made by Donald Trump over foreign policy.
According to reports, the White House tried to stop Bolton from publishing his book. But his publisher confirms it will come out June 23, nonetheless.
Our Take:
Let's see: this is far from the first "bombshell" book that a so-called White House insider has released.
All of them claimed to have dirt that would "take down" Trump. But all of them were duds.
In fact, many of them were so unsubstantial, that even liberal outlets had to criticize these "tell all's."
Will Bolton's book be the same? Could be.
This isn't the first former Trump staffer that sought to hurt his former boss. Why is that so common?
Because the swamp runs deep, my friends. Trump is working to reverse decades of D.C. corruption.
There are plenty of deep pockets that want to stop him. It's not crazy to believe bitter fired staff will say anything to get back at Trump—especially if the price is right.
So, why is the White House trying to stop the book? It's no secret that the administration would not want classified information to be leaked.
It has nothing to do with "protecting" the president but protecting the country. Certain information is classified for a reason, to ensure our safety.
Would Bolton divulge information that could damage us? I guess we'll find out.
For the White House to try to block this book all but assured the liberal book industry would publish it. Perhaps Trump knew that?
Maybe he wants Bolton to shoot himself in the foot?
SHARE if you want Bolton prosecuted if he releases classified info.
Source: Mediaite