Hours After Bolton Turns On Trump – Our President Accuses The Turncoat Of "Only Selling A Book"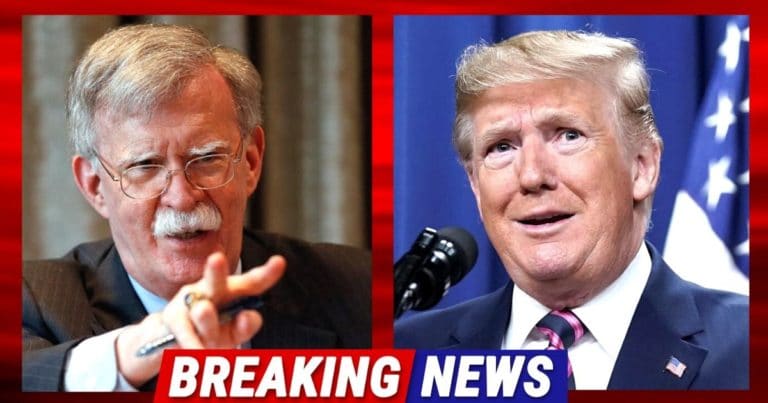 You've probably heard the news by now, right?
National security adviser John Bolton is stirring the impeachment pot BIG time.
It comes from his new book, entitled "The Room Where It Happened." This book even isn't on sale yet, but certain segments have apparently leaked out from "anonymous sources," and then reported by the New York Times. Great…
Ande one leaked piece of information just made a ton of waves:
Bolton claims Trump said he wouldn't release military aid to the Ukraine until officials agreed to investigate the Bidens.
As a result, this new revelation has lit a fire under impeachment Democrats.
They're saying this proves their case — the President's "quid pro quo" is clear. And supposedly, Joe and Hunter Biden were targets.
But wait…
Trump's response to Bolton's claim is already here … and it's a fiery denial: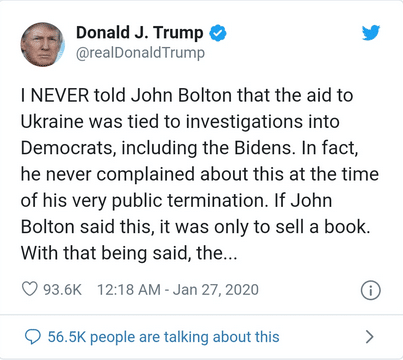 I NEVER told John Bolton that the aid to Ukraine was tied to investigations into Democrats, including the Bidens.

In fact, he never complained about this at the time of his very public termination. If John Bolton said this, it was only to sell a book.
There you have it. A direct denial from the President himself, and he believes Bolton is just trying to make a sale.
Furthermore, Trump added that "the transcripts of my calls with President Zelensky are all the proof that is needed."
Republicans have said this for months, right?
Why didn't Bolton come forward with this "bombshell" accusation then? Similarly, why wait to put it into a book?
Well, Trump's answer might be correct: Bolton did this just to get book sales.
In my eyes, there's no evidence of any crime committed by the President. And a few lines from Bolton's book doesn't change anything for me.
Do you believe Trump is right about Bolton?
SHARE to spread the word if you do!
Source: Washington Examiner