HORRIFYING Caravan Truth Revealed By Border Agent Reveals – It's Worse Than You Think!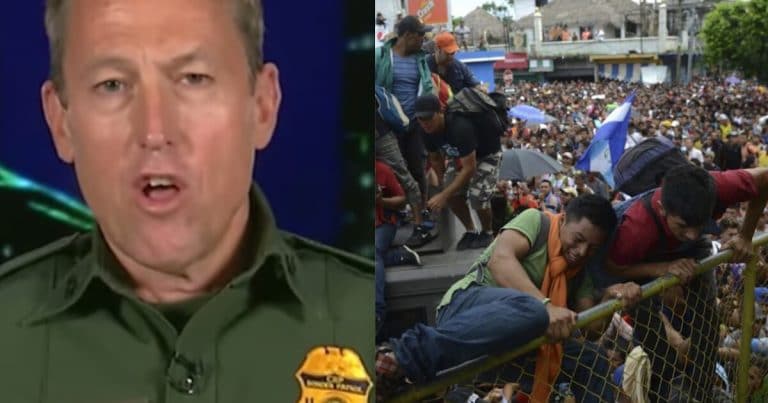 The liberal media is suppressing the facts about what's REALLY going on at the San Ysidro border crossing.
The press is reporting that the caravan is filled with peaceful asylum seekers, all of whom are being unfairly terrorized by the Trump administration.
But those on the front lines tell a much different story.
When it comes to the reality at the border, the media cannot be trusted, and it's important to go straight to the source for the truth about what's actually happening.
And in this particular case, we go to a Chief Border Patrol agent for the truth.
From Western Journal:
"The chief Border Patrol agent for the sector of the southern border that was the target of Sunday's rush by illegal immigrants to force their way into the U.S…

…said the migrants trying to storm the border were hardly peaceful."
Agent Rodney Scott was quite blunt about it, actually.
He came on CNN's "New Day" and let the truth fly and frankly, it wasn't pretty:
"What I saw on the border yesterday was not people walking up to Border Patrol agents and asking to claim asylum.

If they were truly asylum seekers, they would have walked up with hands up and surrendered, and that did not take place."
Agent Scott's firsthand accounts are harrowing, and show the true intentions of the caravan.
Throughout Scott's interview, CNN continued to push the false claim that the migrants are asylum seekers, but Scott was firm in stating that this is not the case.
There are procedures for asking for asylum. Throwing rocks and bottles is NOT part of the procedure.
But the media has downplayed the caravan's violence, and have instead focused on the women and children.
However, Scott pointed out that the women and children were being used as props.
"What we saw over and over yesterday was the group, the caravan, would push women and children towards the front and then, basically, 'rocking' our agents," Agent Scott said.
Only cowards hide behind women and children, but that's exactly what the male-dominated caravan is doing.
The biggest news sources refuse to tell the truth about the situation, but certain officials like Agent Scott are still willing to speak up.
These migrants don't want to enter our country peacefully or legally. How can we expect them to follow our laws once they're here if they're not willing to follow them at the border?
Americans should not have to apologize for speaking out against the migrants, especially when their lawlessness has been on full display.
The bottom line is this: if you want the truth about what's happening at the border, ask a border patrol agent.
Source: Western Journal