New Biden Border Crisis Goes Public – Border Patrol Blows the Whistle 1,000-Migrant Charge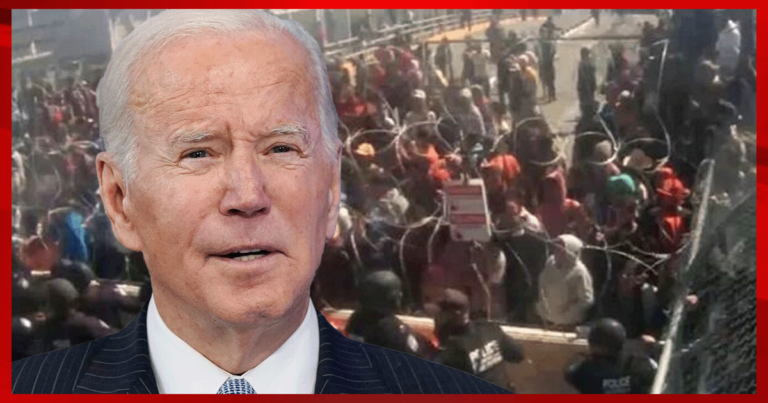 What's Happening:
Months ago, Joe Biden traveled to Texas to "see" the border. In reality, he visited El Paso, which had been carefully cleaned up before he arrived. The thousands of illegals sleeping in the streets were removed. Biden refused to go to the border and see just how overrun it was. All so he could claim Republicans were lying. There was no border crisis.
But we know the facts. Since Biden entered office millions of illegal aliens have entered the country. Joe has been shipping them to all corners of the U.S. And he encourages the media to ignore this crisis, as more try to get in. Now, Border Patrol agents are raising the alarm. This is what the Biden administration is trying to cover up.
From Breitbart:
A source within U.S. Customs and Border Protection says a group of nearly 1,000 frustrated migrants attempted to force their way into the United States at the Paso de Norte International Bridge in El Paso. The group of mostly single adult migrants forced their way past Mexican immigration authorities and attempted to breach the United States Port of Entry by force on Sunday afternoon.
BREAKING: Our contact in Juarez, MX tells us a massive group of at least 1,000 migrants just attempted to rush a port of entry in El Paso in an effort to get into the United States. Video shows them pushing past the Mexican side of Paso Del Norte bridge. Awaiting CBP comment. pic.twitter.com/lxriIB3TSm

— Bill Melugin (@BillFOXLA) March 12, 2023
This is pretty troubling. A group of about 1,000 migrants, mostly young men, were able to overpower Mexican authorities. They stormed the Paso de Norte International Bridge to reach border security, demanding to be let into El Paso.
According to reports, U.S. Border agents showed some backbone, refusing to let them in. The horde was pushed back into Mexico and was "somewhat dispersed." This is alarming news. While this group was pushed back, it shows that these migrants are getting militant.
How long before they try this again and in larger numbers? How long before they decide they can overtake American forces? Democrats ignore Republicans' warnings. They refuse to admit that the nation's border is under attack.
But what do you call this story? Nearly one thousand people try to force their way into the country? Sounds like an invasion to me. These people are not refugees, folks. They are not "innocent" families who just want to live in America.
They are invaders, plain and simple. They want to enter America, ignoring our laws, so they can take our jobs, land, and way of life. They don't care about our immigration laws, why would they care about any others?
Joe Biden might be ignoring this exploding issue, but we cannot.
Key Takeaways:
Nearly 1,000 migrants stormed the Paso de Norte International Bridge to enter the U.S.
The group overpowered Mexican authorities and were trying to forcibly enter El Paso.
Border Patrol was not allowed to report this, but a whistleblower did.
Source: Breitbart